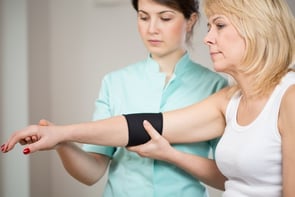 Have you just had surgery? Are you in the process of working with your health care team, hospital discharge planners, and loved ones to work out what your next steps will be in terms of recovery and rehabilitation? Has inpatient rehabilitation after surgery been recommended for you, or perhaps simply suggested as a good alternative for your post-op care? If so, you may have questions about how short term rehab can benefit you.
Here are 4 reasons short term matters when it comes to making your best recovery after surgery.
Professional Wound Care
Proper wound care is essential to helping to prevent post-op complications, especially infection. Chances are that you and/or loved ones who might step in to help you at home have little – if any – experience in the care of surgical wounds. A brief stay in short term rehab after discharge, where your wound will be cleaned, dressed, and monitored by health care professionals as it heals, can significantly reduce your risk of setbacks due to preventable post-surgery wound complications.
Efficient Pain Control
Rehabilitation after surgery generally involves physical therapy as you work to restore your strength and health. Occupational therapy is often a component of post-op care as well. Giving your therapists your best effort is essential to a successful recovery, and good pain control is essential to the ability to make the most of your time with them. Patients who use inpatient short term rehab services after surgery have the benefit of professional pain management, a service that pays off in more efficient pain control. Less pain means faster and more comfortable progress towards your rehabilitation and recovery goals.
Around the Clock Support and Assistance
Successful rehabilitation after surgery will require a lot of determination and hard work on your part. However, you clearly will not be feeling your best during those first days and weeks after surgery, and staying motivated and involved can definitely be a challenge under such circumstances. Here, too, patients that use inpatient rehab as a stepping stone between hospital and home have the advantage, with a team of health care and rehabilitation specialists available around the clock to provide the support, care and assistance they need to make the most of their post-op recovery and rehabilitation.
Coordinated and Comprehensive Rehabilitative Therapy
A stay in inpatient short term rehab after surgery will provide you with a comprehensive treatment regime that is carefully structured and coordinated with the assistance of a team of rehabilitative specialists who work together every day under one roof. This sort of team approach – one with frequent and open communication between all involved – offers each patient the individualized care they need to make their best progress towards rehabilitation. Outpatient or home-based rehabilitative care, on the other hand, can be quite fragmented. You may work with several therapists, physicians, and other professionals during your recovery period, each one in a separate office. Communication between them often isn't as efficient as it should be, which can lead to conflicting advice and poorly coordinated care – leaving room for important aspects of care and treatment to fall through the cracks.
The bottom line is that short term rehab programs can offer the complete package of professional medical care, therapy, education, counseling, supervision, and support you need after surgery. This will leave you free to focus on what matters most: working to get back on your feet, regaining your best level of function, health, and independence, and getting back to living life as you choose as quickly and completely as possible.