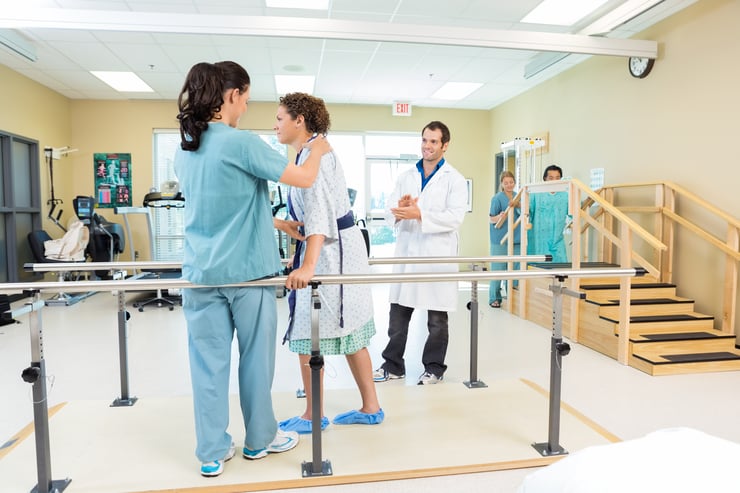 Patient education is a key component of cardiac rehabilitation. The training, guidance, counseling, and information you receive during your cardiac rehab program will help you create a more heart-healthy lifestyle, manage your own condition, and feel confident in your ability to take care of yourself. What you learn during cardiac rehab can literally save your life.
Patient Education During Rehab: What to Expect
During rehab, you will receive education in a number of different areas, all with the aim of creating long-term improvements in the health of your heart:
1. Exercise training
During rehab, you will be taken through a supervised, customized exercise training program. This program is designed to give you more mobility and strength in the immediate term - but that is not the only benefit. Your physical therapist will encourage you to begin to monitor your own responses to exercise, such as your heart rate and blood pressure. As rehab progresses, you'll begin to exercise with more autonomy. By the end of the program, you should have learned how to exercise safely while boosting the health of your heart.
2. Guidance on medication
During your rehab program, your healthcare team will give you all the information you need to manage your medications correctly, as well as training in the use of any medical devices you might need, such as a walker or oxygen therapy. You should feel confident by the end of rehab that you can manage your condition with only minimal medical supervision.
3. Stress management training
Cardiac rehab programs place a strong emphasis on stress management. Keeping your heart healthy means learning to keep your stress levels to a minimum. During rehab, you'll receive education on breathing techniques, meditation, and other methods of managing stress and anxiety.
4. Lifestyle changes
During cardiac rehab, you'll not only learn the lifestyle changes you need to make for a healthier heart and higher quality of life; you'll also get the education you need to make those changes stick. For instance, many rehab programs offer guidance on how to quit smoking successfully, how to include exercise in your daily routine, and how to maintain a healthy diet after you leave rehab.
5. Dietary counseling
Most cardiac rehab programs will include guidance from a professional nutritionist, who will help design a diet plan for you that can help you manage your weight, lower your cholesterol and change any unhealthy eating habits. Receiving education on good nutrition choices is critical to creating the heart-healthy lifestyle you need.
Applying Patient Education After Rehab
Studies consistently show that patient education has a major impact on long-term patient well-being. However, those benefits only accrue if you consistently apply the principles you learned during rehab once you leave the program.
This is easier said than done - making changes to your lifestyle can be tough, and you may find yourself falling back into old habits. Before your rehab program finishes, it's worth planning how you will adapt your day-to-day life to incorporate the new lifestyle changes you have made. You should also consider how you will handle setbacks and obstacles that come up. Here are some suggestions on applying your education after your rehab program finishes:
Find a specialized personal trainer
Some personal trainers specialize in working with patients with cardiac disease and will be ideally placed to help you keep your new exercise regime going in your everyday life.
Join a support group
Meeting with patients recovering from heart attacks or living with a heart condition can be very helpful, both in keeping you on track in your recovery and in finding a supportive and understanding community. A good place to start is the American Heart Association's Support Network.
Develop an action plan
You might find it helpful to design an action plan for the next phase in your recovery. Your rehab team should help you put together a plan with goals for managing your own rehabilitation once your formal cardiac rehab program finishes. You can also find resources online for designing your own plan, such as these plans from the Australian Heart Foundation.
Stick with the program
It goes without saying that the education you receive during cardiac rehab will only benefit you to the extent that you apply it. You'll need to think about how to change your diet, your daily routine, and your habits, to make sure that you keep your heart as healthy as possible.
The Benefits of Patient Education
Patient education has been proven to be beneficial for those dealing with heart disease - for instance, a recent study found that patient education helped reduce the number of heart events. There are a number of other benefits you might receive from the educational component of your rehab program:
More confidence
Many patients find that, by gaining a clearer understanding of what their condition is, how it affects their heart, what exacerbates their symptoms, how to manage their medication, and how to make their lifestyle heart-healthy, they feel better able to take care of themselves and enjoy life.
Improved quality of life
By learning how to exercise safely and regularly, eat well, and manage your stress levels, you may find that your overall quality of life improves too.
Less anxiety
A clear understanding of your condition and how to deal with it, coupled with the stress management techniques you learned during rehab, should reduce your anxiety, helping you feel better. Research from the Toronto Rehabilitation Institute confirms this - patients with higher "health literacy" (which could come from receiving patient education during rehab) experienced lower levels of anxiety than those with low HL.
Patient education is critical for cardiac patients, improving both physical and psychological well-being, and helping you to create a better quality of life on your own after your cardiac rehab program finishes. If you'd like to learn more about the patient education we offer as part of our cardiac rehab program, visit our website or contact us for more information.