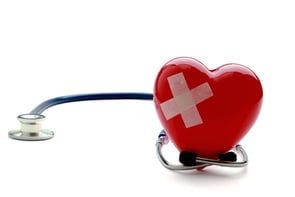 According to the American Heart Association (AHA), cardiovascular disease is the leading cause of death worldwide, accounting for over 17.3 million deaths per year... and that number is continually growing. Someone dies of heart disease every forty seconds in the United States – approximately 2,150 people per day. These statistics include not only the "typical" victims, such as the elderly or morbidly obese, but also adults of every race, individuals who consider themselves fit and active, and even children.
What Can Be Done?
The good news is that there are a number of ways to help prevent cardiovascular issues like stroke and heart attack, and in some cases, even ways to reverse damage that may already exist. The bad news is that, for those at risk, much of the protection comes in the form of serious lifestyle changes, and these changes aren't always easy.
One way to start making these significant lifestyle adjustments is called "leaning in." Leaning in means taking baby steps toward change: one small lifestyle alteration at a time, spread out over the course of weeks or even months.
5 Ways to Protect Yourself from Heart Disease
1. Quit (or never start) smoking
Most people would say that they know how detrimental smoking can be to your entire body. Tests have proven that even breathing in secondhand smoke can have devastating consequences, especially to children. If quitting "cold turkey" isn't working for you, talk to your doctor. There are many over-the-counter and prescription aids available to help you quit.

The benefits to avoiding cigarettes and tobacco are immediate: lowered blood pressure, improved lung function and circulation, and lower risk of heart disease.
2. Regain a healthy body weight
If you need to lose weight in order to reduce your risks for heart disease, there is no time like the present to get started! Simply reducing body weight by 10% automatically lowers your blood pressure, reduces wear and tear on your arteries, causes your blood sugar levels to start stabilizing, and lowers your risk for developing diabetes. Consult with your doctor or join an exercise or weight loss community.
3. Physical activity does a body good
Speaking of physical activity... when you move, you send more needed oxygen to all of your cells, improve circulation, and increase muscle function, especially in your most important muscle: your heart. It's easy to track the amount of movement that you are accomplishing these days, from free smartphone apps to affordable pedometers to the new breed of wearable fitness trackers. Aim for 5 to 10,000 steps a day (2.5 to 5 miles). That distance may seem overwhelming at first, but you will find that by taking the stairs or parking a little further away from the supermarket door, those steps quickly add up.
4. Keep your blood sugar and cholesterol in a healthy range
Be sure to make your doctor aware that you're choosing to start making healthy changes to your lifestyle and let them know that you hope to not always have to rely on medication to control your type 2 diabetes or elevated cholesterol. Although you may have to depend on medications at first, with the right amount of consistent healthy changes, it may become less necessary for maintaining healthy levels.
5. You are what you eat
Who wants to be grease-dripping, artery-clogging fast food? Wouldn't you rather be a fresh, colorful salad? You don't have to become a full-on vegetarian or vegan unless you or your doctor determine that that's what's best. However, striving to include more home-cooked, veggie-filled, low-fat meals in your diet is a good decision. If fast food is a daily temptation, try taking your own lunch to work. Try a baked potato with meatless or low-fat bean-filled chili for a filling, satisfying, and heart-healthy meal. No time for breakfast? Set your crockpot on low with a combination of oatmeal, water, cut up apples, and walnuts for a good-for-your-heart breakfast that is ready when you wake up.
There are lots of ways that you can start "leaning in" to prevent heart disease – starting today!