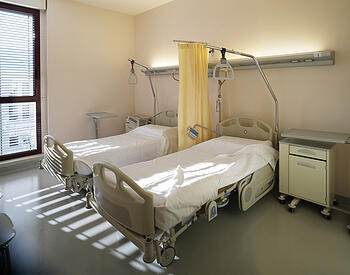 Sharing a room with someone is a very big step that has both positives and negatives. While you do have to give up some privacy and space, semi-private rooms also give you the benefit of being able to share your goals, doubts, and motivational advice with people who are going through the same kinds of challenges that you are. With this information you will have a good understanding of the best way to live successfully in a room that you share with someone else.
Talk About Your Needs
Two people in a semi-private room in a rehabilitation facility may be going through similar experiences, but they probably have different requirements for specific care as well as physical and emotional needs. If you want to foster a healthy, positive relationship with the person that you share your room with, be sure to be open with them about what you are going through and how it impacts you. This doesn't mean that you have to share every detail of your rehabilitation with them, but you should try to give them a broad sense of what you are dealing with and how it may affect your interaction with them as a roommate. Conversely, make sure that you are open to listening to their needs and challenges, and do everything you can to truly take heed of what they are going through so that you can form a mutually beneficial relationship. In addition to building the expectations with each other in terms of what to expect in the daily routine, sharing with each other can help relieve stress and worry about these procedures. Talking about what's coming up often goes a long way in helping you to relax and get much needed rest.

Give Each Other Space
Semi-private rooms, by their very definition, offer less space than a private room would. Knowing this, it is important that you give your roommate the ability to be alone when necessary. Most semi-private rooms have dividers or other kinds of boundaries in place that will determine where one person's space ends and where the other person's space begins. While you may be comfortable with them coming into your area and vice versa, you both also need to give each other plenty of room so that you can have the privacy needed. Not everyone has the same personality so be sure to pick up on non-verbal cues that your roomate needs some alone time and don't take it personally when they do.
Be Cordial
Your roommate is someone that you will see almost every day. It is important that the two of you have a good relationship: simply asking a question about how their day went or talking to them about their family can be enough to strengthen the relationship that you share. At the same time, you should also understand when they are not in the mood to talk and respect their wishes.
Following these simple steps will help you make your experience in semi-private rooms a much more positive one that contributes to your successful completion of the rehabilitation process.