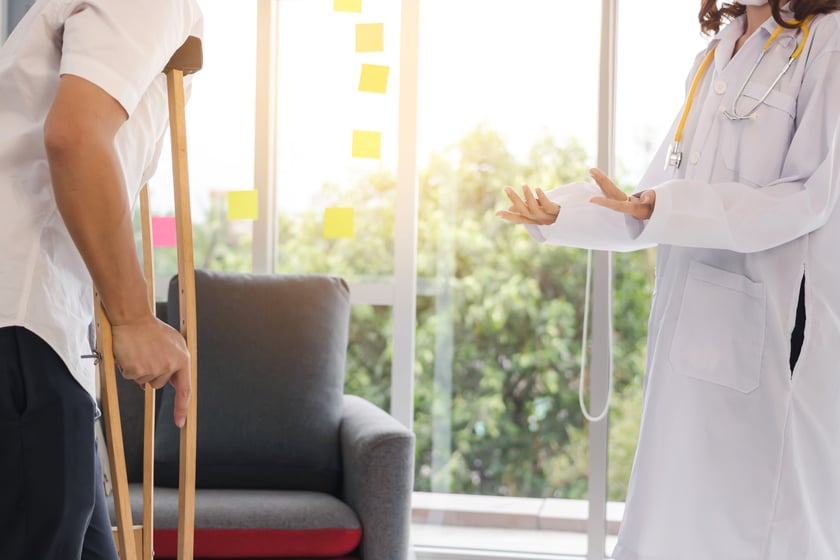 When you suffer a fracture, you may be required to stay off your injured limb for a prescribed amount of time. After a certain point, however, immobilization can do more harm than good. So, your doctor may recommend orthopedic rehabilitation to help your injury heal in the most effective way possible.
As discussed in-depth in this article, orthopedic rehabilitation is a treatment program to help you recover from a musculoskeletal injury, which includes fracture. Your orthopedic treatment program may consist of any combination of the following or more:
Physical therapy
Occupational therapy
Vocational rehab
Medication
Transitional care
Diet and nutritional support
Behavioral therapy
Orthopedic rehab may also entail regular visits with your doctor, surgeon, and other specialists, depending on the nature of your injury.
Your orthopedic rehab treatment plan provides you with some major benefits, all of which help you get back to your routine as soon as possible.
Let's look at the top 6 ways orthopedic rehab can help you heal.
1. Orthopedic Rehab Helps you Heal Faster
It's essential to restart activity when your doctor recommends it after you break a bone, even though it might seem counter-intuitive. Your natural inclination may be to rest until your injury has fully recovered. However, movement creates a better environment for healing than staying sedentary does at a certain point in the healing process.
For one, activity increases blood flow to the injury site, stimulating the healing process. Blood flow delivers oxygen and healing nutrients to the fractured area, the tools it needs to continue its repairs.
Movement also reduces the risk of blood clots or deep vein thrombosis, which can cause complications. If a blood clot dislodges and ends up in the lungs, for example, it can cause a painful, serious condition called pulmonary embolism. By keeping your limbs moving, you keep your blood flowing and lessen your chances of clotting.
Finally, electrical, laser, and ultrasound therapies often used during rehabilitation also encourage healing and bone rebuilding. Soundwaves, heat, and bone stimulation tell the body to respond to the injured area, thus perpetuating the healing process.
2. Orthopedic Physical Therapy Prevents Weaknesses
If you rest for too long after an injury, your muscles and bones may suffer. Bed rest may be best for a short time, but without use, your muscles start to weaken and tighten. At that point, rest may not be recommended anymore.
If you favor one side over the other, you can also develop muscle imbalances that leave one side of the body weaker than the other. When you compensate for an injury, such as changing your gait, you can change the balance in your kinetic chain.
To counteract those tendencies, your specialists can help you keep your body conditioned, avoid bone and muscle breakdown, and teach you how to avoid overcompensating on one side.
You may not be able to put weight on your affected limb for a few weeks. However, your specialists may be able to provide therapies, modifications, and targeted exercises to help you return to your previous condition faster.
3. Orthopedic Treatment Reduces Pain and Inflammation
Pain and swelling are two of the most common side effects of breaking a bone, typically with immediate onset. In addition to the bone itself, the break can cause damage to the surrounding tissues, nerves, and structures, all of which contribute to pain and inflammation.
Controlled, supervised movement can often help reduce pain by:
Strengthening the muscles around the injury
Increasing blood flow to the injured site
Reducing the amount of inflammation
Decreasing built-up tension and stiffness
Releasing scar tissue
Correcting imbalances
Ultrasound, electrical stimulation, medication, and assistive devices may also help reduce your pain and inflammation levels over time. Pain reduction should be one of your care team's top priorities, and they have numerous methods to help you manage discomfort.
4. You May be Able to Avoid Surgery with Orthopedic Rehab
Bones that are displaced or shattered may require surgery. If you have a simple break and your physician can line the bones up again, however, you may be able to avoid surgery if you follow your doctor's recommendations. Many fractures heal without surgical intervention as long as you rest and resume activity at the right times.
Physical therapy also helps you avoid reinjuring yourself. As your balance, coordination, and strength improve, your risk of falling and hurting yourself and requiring surgery down the road for it decreases.
5. Rehabilitation Encourages Mental Health
We can't ignore the mental and emotional implications that fractures, or any medical conditions, can have on mental health. A fracture can cause significant psychological distress. It can interfere with relationships, create financial burdens, keep you from the activities you enjoy, among other effects that contribute to a poor mental state.
Studies show older people, particularly women, are more prone to depression after suffering from a fracture. To further complicate matters, depression can result in poorer recovery.
To combat mental health complications after a fracture, a comprehensive rehabilitation program should include regular counseling visits for those who need it. Therapists can help you develop effective coping skills, increase emotional regulation, promote your independence, among other strategies to protect your mental health.
6. Rehab Provides Better Overall Outcomes
Research shows that early, aggressive rehabilitation provides better outcomes after surgery or fracture treatment, particularly for the hips, wrist, and thigh. For the best results, rehab should begin right away.
Rehab specialists may have you move around or perform passive movements the same day as surgery and gradually progress from there. Even if your fracture doesn't require surgery, your therapists start right away by showing you how to use assistive devices like crutches or slings and ways to stay moving that are in line with your restrictions.
The types of positive outcomes from rehabilitation include:
Restored function in the injured body part
Decreased disability
Better quality of life
Essentially, rehabilitation helps you return to your pre-fracture state as quickly and efficiently as possible.
Inpatient or Outpatient Rehab for Fractures
It's up to you, your family, and your medical providers to determine if inpatient or outpatient orthopedic rehabilitation is right for you. Your medical status and the severity of your condition are two of the top deciding factors.
Many fractures can be managed at home. If your condition is severe or complex, and you suffer severe impairments from your condition, an inpatient stay may be in your best interest.
Whatever you decide, it's important to find providers who specialize in your particular condition and offer comprehensive rehabilitative services.
Rehab Select offers intensive inpatient and outpatient orthopedic rehab services at their multiple locations in Alabama. You or your loved one has access to all the physicians, physical therapists, occupational therapists, counselors, and specialists they need to make a full recovery from a fracture. Contact our rehab center online or over the phone to find out more about our fracture recovery services.