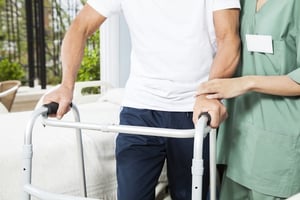 If you will need the services of a short term rehab center to help you recover and rehabilitate after a serious illness, accident, surgery or other medical event, you'll certainly want to be sure that the rehab facility you choose is a good one. So what do you need to know in order to make a solid choice? Here we'll outline the first steps you should take in making that decision.
List Your Options
Your very first step in choosing a short term rehab program is to make a list of the facilities in your area that are capable of meeting your needs. Look for facilities that have extensive experience working with patients in similar circumstances to your own. For example, if it is a stroke you're recovering from, you'll want a rehab center that has helped a lot of stroke patients, or if you'll be having joint replacement surgery, you'll want to be sure they have experience with orthopedic patients. Your medical care team should be able to help you define your medical and rehabilitation needs and offer some recommendations for your options list. Hospital social workers and/or discharge planners should also be able to recommend local rehab facilities. Using Medicare's online facility locater/comparison tool can also help you find short term rehab options in your area.
Research Each One for Quality and Reputation
Once you have a list of local options in hand, you'll need to do a little research on each of those options to find out about the quality of care they offer and what sort of reputation they've earned. Medicare's website can help here too, since their comparison tool (linked above) offers details on each facility they list, including ratings, inspection reports and staffing reports. Asking healthcare professionals about any facilities you're interested in can also be helpful, as can checking for online patient reviews and speaking to any friends, family members, neighbors or co-workers who have been treated in facilities on your list.
Look Into Financial Aspects
Checking into costs and insurance coverage is also an important step to take early in the decision process. If you will be paying via public or private insurance, be sure that short term rehab facilities on your list accept your insurance plan. Whether you're using insurance or paying out of pocket, you'll need to find out the total costs of the services you'll need – then compare those costs among facilities on your list.
Once you've narrowed your list to a few high-quality and affordable short term rehab facilities, you can make appointments to check them over in person. If you aren't able to visit them yourself, enlist a family member or friend to do it for you. You'll want to take notice of the cleanliness and comfort of the facilities, the professionalism and helpfulness of the staff and the general atmosphere to determine which of them would be the best fit for you.