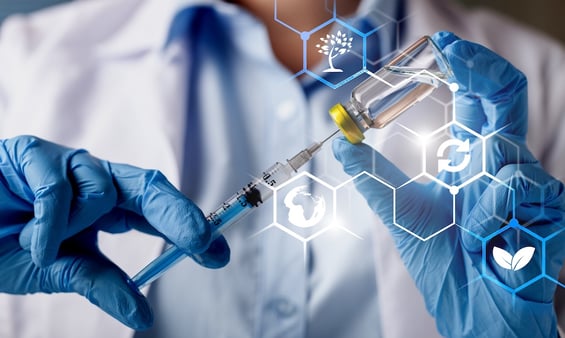 We are beating back COVID-19. As of May 14, 2021, over 35% of the U.S. population has had both doses of an approved vaccine. The moving weekly average of cases continues downward; however, this is not the time to assume that treatment innovations can stop. We have seen firsthand how tough this virus can be on vulnerable populations and how diverse and complicated its effects are.
At Rehab Select, we are now offering the latest monoclonal antibody treatment (often called BAM infusions), which was recently given emergency authorization use by the FDA. If you or your loved one's symptoms are somewhere between mild and severe, or you have other risk factors and test positive for COVID-19, this treatment can keep you out of the hospital. We can also guide you through the COVID-19 recovery process with our multidisciplinary rehabilitation center.
Origins of Monoclonal Antibody Infusion
On February 9, 2021, the FDA issued an emergency use authorization for the combination of two monoclonal antibodies, bamlanivimab and etesevimab (prior to April 19, 2021, bamlanivimab was used alone, but now seems to work better with etesevimab) to keep mild and moderate COVID-19 symptoms from advancing.
What are they? Monoclonal antibodies are designed to give the body more of its normally produced immunity tools to fight COVID-19's severity. Scientists studied the antibodies present in recovered patients and cloned them to give the body a boost early in the battle for COVID-19 recovery. These B cells are monoclonal in that they have a singular action versus a predetermined target. In other words, this is no shot in the dark.
Eli Lilly was one of the first companies to begin work on monoclonal antibodies. Bamlanivimab (i.e. BAM infusions) was actually developed from the blood of one of the very first U.S. patients to recover. It acts against COVID-19's spike protein. The other antibody we use in tandem is etesevimab, which acts more specifically against the receptor of the spike protein. These antibodies are natural, they do one thing, and evidence of their effectiveness is mounting.
Evidence of Effectiveness
On May 18, 2021, the University of Pittsburgh Medical Center published a study of the first 230 of 2,600 patients to whom it had administered monoclonal infusions (BAM infusions). A news release about the study reported that, when given within 10 days of symptoms, the treatment cut the risk of hospitalization and death by 60% in those most likely to suffer complications of the disease, including patients of advanced age, who are obese, or those with conditions such as diabetes or lung disease.
The study's lead author says, "The strongest effect was seen in older patients. Those age 65 and older who received monoclonal antibodies from UPMC were nearly three times less likely to be hospitalized or die in the following month, compared to their untreated counterparts." Furthermore, "UPMC's data also showed a stronger positive effect the earlier patients received the treatment after contracting the virus, and a very low rate of adverse reactions to the infusion, all of which were mild."
Although the above study was on bamlanivimab, which is no longer used by itself, Lilly's phase 3 clinical trial data for bamlanivimab and etesevimab seems even more promising. According to Medical News Today, "Eli Lilly and Company recently announced their phase 3 clinical trial data in a press release. They said that the combined bamlanivimab and etesevimab therapy reduced the risk of COVID-19 hospitalizations and death by 87% in people with mild-to-moderate symptoms at high risk of severe disease."
What Is the Infusion?
The monoclonal antibody infusion is a one-time IV treatment for COVID-19 recovery that administers the antibodies directly into the bloodstream. We offer it appointment-only because it does take 2.5 hours to complete. According to the Mayo Clinic, most patients notice improving symptoms within 24 to 48 hours. Administering the infusion with IV means that it will not interfere with kidney or liver drugs. The FDA has authorized these treatments for those with mild-to-moderate symptoms at highest risk for a severe progression. Patients should meet one of these FDA criteria:
having a body mass index (BMI) equal to or greater than 35
having chronic kidney disease, diabetes, or an immunosuppressive condition
being older than 65 years
being older than 55 years and having cardiovascular disease, hypertension, chronic obstructive pulmonary disease, or another chronic respiratory disease
being aged 12 to 17 years old and having a BMI equal to or greater than the 85th percentile for one's age and sex (according to Centers for Disease Control and Prevention clinical growth charts), sickle cell disease, heart disease, a neurodevelopmental disorder, medical-related technological dependence, asthma, or another chronic respiratory disease requiring daily medication
As with any treatment, side effects are always possible. Mild hypersensitivity and allergic reactions are most common:
fever
nausea
chills
fatigue
chest pain
difficulty breathing
an irregular heartbeat
headache
low or high blood pressure
throat pain
rash
dizziness
If these occur, we can slow or stop or the infusion, at which point the reaction will subside.
Rehab Select Offers Comprehensive COVID-19 Recovery
We have the physician-led multidisciplinary services to adapt to all possible COVID-19 symptoms, especially for vulnerable populations, to whom we are already accustomed to monitoring and caring for. We have been an essential partner to UAB as a point of care for vulnerable patients who do not need acute hospital care but are too vulnerable to be left unmonitored. Further, we have developed our own COVID-19 recovery program to treat long-haulers, those who deal with the following symptoms weeks and months beyond the normal course of the illness:
Respiratory deficits and breathing problems
Heart problems after COVID, including blood clotting issues
Muscle weakness and pain
COVID fatigue syndrome
Brain fog and headaches
Nutritional deficiencies
Our team of physical and occupational therapists, pulmonology experts, and 24-hour caregivers allows us to effectively administer the monoclonal antibody infusion (BAM infusions) and follow through to make sure your symptoms are mitigated.
You don't have to go to an intimidating hospital environment to get the most cutting-edge COVID-19 recovery treatment and follow through. If patients' symptoms do strengthen or return, we'll be able to act swiftly to either bring them in for more intensive monitoring or recommend them to acute care hospitals. Please contact us immediately if you or a loved one has tested positive for COVID-19 and meets the criteria for monoclonal infusion therapy. This new therapy can keep the most vulnerable patients out of the hospital and prevent lingering symptoms.