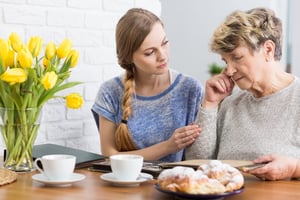 A new dementia diagnosis in your family can have a significant impact on everyone involved. You and your loved one may have difficulty coming to terms with the emotions, lifestyle adjustments, and expectations that come along with that type of diagnosis.
Dementia also presents your family with a number of decisions regarding treatment and location of care. Usually caretakers have one of two options, both with advantages and disadvantages, for long-term care. You can care for your loved one at home or make arrangements for care at a nursing facility.
Caring for a Dementia Patient at Home
During the early stages of dementia, you may find it easier and feel driven by a sense of loyalty to care for a loved one at home. You may only need to make some minor adjustments to accommodate the person until the disease progresses. If you're considering taking care of someone with dementia at home, you may want to consider the following pros and cons:
Pros: Your loved one may prefer to remain within the comforts of their own home for as long as possible, and this option honors those preferences. The familiarity of the surroundings and ability to maintain as much independence as possible may also benefit them. You don't have to assume full responsibility for the care of your loved one alone either, because in-home visits are often an option to address medical needs and provide support.
Cons: You may not be physically or mentally equipped to care for someone with increasing needs over the course of their disease. Caring for an elderly person with dementia can place significant pressure on your work life and mental health, among others. Your loved one may eventually need more support and supervision than you can provide.
Setting Up Care at a Nursing Home
The decision to place a loved one in a nursing home often involves a lot of emotion and thought and it isn't easy. However, in the later stages of dementia, the support provided by a nursing home can come as necessary relief to caregivers. If you're considering a nursing home for your loved one, you likely want to weigh the advantages and disadvantages.
Pros: Once a person reaches the later stages of dementia, they may have trouble performing the most basic tasks and be at increased risk for medical complications. The extensive memory loss may necessitate 24-hour care. At a nursing home, staff with expertise in dementia is available at all times to provide a safe, supportive environment. If your loved one has a medical emergency at the facility, a medical provider is always there to intervene.
A nursing home also offers social and recreational benefits for older people who enjoy the activity and companionship. Most of their appointments can be arranged in one place, and their meals, medication, and living needs are all provided, alleviating those responsibilities from family members.
Cons: Some caregivers grieve the loss of personal one-on-one time with their loved ones once they enter a nursing home. You may have difficulty transitioning from being with the person around-the-clock to only seeing them during visiting hours. Your loved one may also have a difficult time adjusting to the unfamiliar surroundings in a nursing home. Financial concerns about the monthly costs of a fully-equipped nursing facility may also come into play.
The advantages and disadvantages of both types of care can complicate your decision-making process, and no single approach works best for every family. However, the decision usually comes down to what's best for your loved one. Many families choose a nursing home once the disease progresses.
Signs a Nursing Home is in Your Best Interest
A few clear signs that show you should consider a nursing facility once your loved one:
Reaches a more progressive stage of dementia
Needs more care than you can physically or mentally provide at home
Requires full-time supervision for their safety
Has complicated medical needs in addition to their dementia
Would have a better quality of life in a residential program
Once you decide that a nursing facility is in your best interest, Rehab Select comes alongside you and your loved one to provide a safe, nurturing environment to meet your personal and healthcare needs. In the care of our compassionate, competent providers, you can rest assured you made the right decision.