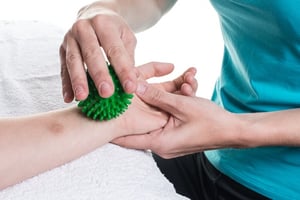 Have you been told by your healthcare team that you could benefit from outpatient occupational therapy?
This type of therapy is often recommended for people who have seen a decline in functional abilities that makes some daily tasks difficult to manage. So what exactly is occupational therapy and how might it benefit you?
What is Occupational Therapy?
Occupational therapy is an area of rehabilitative medicine that focuses on helping people regain or maintain their ability to perform their usual daily activities as easily and independently as possible.
People may be referred to occupational therapy if they have suffered an injury, illness, or medical event that has led to physical limitations. People who are living with a chronic health condition that has caused functional deficits, such as arthritis, osteoporosis, Parkinson's disease or multiple sclerosis, for instance, may also benefit from occupational therapy.
Occupational therapy helps people overcome or adapt to permanent or temporary disability. Therapists work to help their patients learn how to manage everyday tasks in spite of these disabilities, including personal care, household chores, work-related tasks, and social activities. This may involve a number of therapies, tools and techniques, including targeted exercise, education and training, adaptive technologies and tools, and environmental modifications, among others.
If you participate in an outpatient occupational therapy program, you will visit a therapist in his or her clinic or practice regularly for treatment. Sessions are generally 30 minutes to an hour in length, and may be scheduled anywhere from 1 to 5 times per week, depending upon your individual needs.
What Are the Benefits of Outpatient Occupational Therapy?
The benefits of outpatient occupational therapy will depend on the problem or condition being treated. However, in general, the benefits of outpatient occupational therapy are greater functional ability and independence in daily life, as therapists work to make it easier for patients to manage the things they want and need to do every day. For example, occupational therapists can:
Help people regain function in an arm or hand that has been lost or reduced due to stroke or brain injury.

Teach people new, adaptive ways to get things done, such as bathing, dressing, preparing meals or doing household chores.

Guide people in developing strategies to compensate for memory problems or other cognitive impairments.

Educate patients in energy-conserving techniques for completing daily tasks to minimize fatigue and maximize productivity.

Teach joint protection techniques and uses of adaptive tools to help patients with painful joints function more independently and with less pain.

Help joint replacement patients learn to use and adapt to their artificial joints.
These are just a few examples of the potential benefits of outpatient occupational therapy. The bottom line is this: If doing the things you want or need to do every day has become difficult for you, seeing an occupational therapist for evaluation and treatment can help you get back on track – more able to live your life to the fullest.