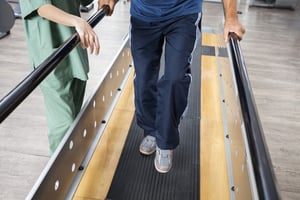 Outpatient therapy services provide you with the tools and techniques you need to enhance recovery from illness, surgery, or another medical event. We assemble a specialized therapy team to provide follow-up care tailored to your specific needs.
Although outpatient therapy can be energy- and time-intensive, you should think of it as an opportunity to heal faster and avoid repeat injuries. This opportunity is meant to help you regain normal function again with services like physical, occupational, or speech therapies from trained professionals who know how to optimize your treatment.
If you'd like to use this opportunity to improve recovery, we've got tips to help you get the most out of your sessions.
1. Make Preparations
Therapy will most likely require ongoing appointments over a period of several weeks. In order to coordinate those appointments, you need to make space in your schedule, notify your workplace, and arrange for rides and assistance at home. You'll be able to reach your rehabilitation goals faster by attending all sessions and preventing missed appointments.
At your first outpatient appointment, you should have with you a list of all current medications and pertinent medical information for your provider. These preparations will make your visit go much smoother.
2. Ask Questions
If you or your loved ones are unclear about your diagnosis or treatment plan, make sure to ask questions. The providers at Rehab Select spend ample time during appointments to address your questions and concerns. The more you know about your condition and understand the rationale behind your treatment, the easier it is to adhere because you understand why you're doing it.
3. Do Your Homework Between Sessions
Each week, your therapists will give you activities and tasks to work on before your next appointment. These tasks help you make quicker improvements. The accumulative effect of therapy sessions over the span of several weeks is significant. The benefits of therapy are even more significant if you add in your daily at-home sessions.
4. Follow Instructions
Our expertly-trained therapists design structured treatment plans based on specific criteria, so it's important to heed their advice for your safety and well-being. If they advise against walking up the stairs, then you should avoid stairways. If they tell you to get up and move around often during the day, then you should make an effort to be active. Again, don't hesitate to ask questions if you want to understand why they make certain recommendations.
5. Take Note of Your Progress
Have a family member record notes or ask your therapist about your progress at different intervals during your therapy. Your provider may notice changes you aren't aware of, and it motivates you to keep going when you see how far you've come. Your therapist can also pinpoint areas that need improvement so you can actively work on them.
6. Speak Up
If an exercise pushes past the point of discomfort to pain, you think a practice task isn't working, or you feel you could do more, tell your therapist right away. You or a loved one should also notify your provider if you're not doing your homework or if you start any type of complementary treatment.
This two-way communication with your provider allows them to make adjustments so you can get the most out of each session. Your therapist can customize your therapy for your particular situation and needs, even as they change.
7. Discuss Your Expectations
Talk to your provider about the big-picture idea of what kind of treatment outcomes you can expect and how long treatment will take.
You can also ask your doctor if they expect you to regain full function. If not, they can give you an idea about the adjustments and accommodations required to return to your normal routine.
8. Take Efforts Toward Prevention
Recovery doesn't necessarily end with healing. Our outpatient services extend beyond healing to re-injury prevention to save you from ending up in the same situation again.
Your therapist can teach you prevention strategies like ergonomic positioning and posture to keep you strong and steady. Make sure to continue your training after your last therapy session to make your recovery last.
Each trip to your therapist's office serves a specific purpose toward your recovery. In order to make the most of your experience, it's important to open up with honest communication with your provider and follow through on your therapist's suggestions.