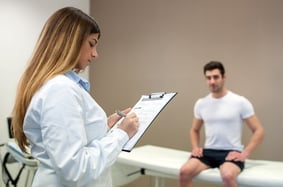 If you are in the process of planning a surgical procedure or have recently had an unexpected surgery as a result of an injury, cardiac event or other acute medical incident, post operative rehabilitation is an issue that you will be concerned with during your recovery period. After serious procedures your health care team may suggest a short term rehab facility for your post-op rehab, which will provide intensive rehabilitation therapy in an inpatient setting. If so, there are a number of factors to consider as you weigh that advice.
The Potential Benefits of Short Term Rehab for Your Recovery
The intensive, coordinated, and comprehensive care that patients are provided with in an inpatient rehabilitation program offers a number of advantages over outpatient or home-based rehabilitative therapy. Research has shown that patients recover and rehabilitate more quickly in these programs than they do with other options – especially after orthopedic surgeries like hip or knee replacement. Post operative pain is typically better managed in an inpatient setting, and around-the-clock nursing care reduces risk of complications. Rehabilitative therapy is more intensive and more closely supervised than it is with outpatient options, leading to better progress towards recovery goals and greater safety as that progress is made.
Inpatient rehabilitation also offers greater convenience, with all needs met under one roof rather than patients and their families having to handle the hassles of juggling multiple medical and outpatient therapy appointments, not to mention the transportation issues involved in getting to them all. Lastly, if your doctor has recommended inpatient rehab, chances are you'll need more care and therapy than is generally available with outpatient rehabilitative options. Forgoing that additional care may impair your recovery.
Choosing Your Short Term Rehab Program
If you have decided that inpatient rehabilitation is the best route for your recovery, evaluating the options available in and around your community is important. Your first step is to ask around about what is available, so speak to your health care team and hospital social worker for recommendations as well as friends, neighbors, family, and coworkers who may have had experience with rehab programs. Once you have a list of possibilities, you'll need to evaluate each one to find the program that can best meet your individual needs.
Factors to look into as you evaluate programs include their level of expertise with patients who have had your type of surgery and their results in terms of quality care and successful rehabilitation. If possible, tour each facility or ask a friend or relative to do so for you. Look at factors like cleanliness, staffing levels, staff professionalism and helpfulness, the general atmosphere, and the overall satisfaction levels of current patients. Lastly, look into their policies on visits during your stay and try to choose a program that is close enough to home to enable plenty of them from friends and family – after all, emotional support is an important factor to a smooth recovery.
Touching Base with Your Insurance Company Before Entering Rehab is Essential
Nobody likes to get greeted by large, unexpected bills when they return home from a stay in a rehabilitation facility – even if the care and results were exceptional. Those sort of unpleasant surprises can be avoided by doing a bit of advance checking with your insurance company to see what they will cover and what forms and referrals are needed to ensure that coverage.