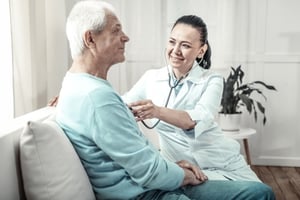 Have you been advised by healthcare professionals that you or a loved one need skilled nursing services? If so, this probably raises a few questions for you. What can you expect should you follow that advice? Which services does skilled nursing care offer that could be crucial in improving or maintaining your health and well-being?
To help you understand why this type of care may be necessary, here we will outline 10 crucial skilled nursing services.
Skilled nursing care provides medically necessary care that requires the supervision of licensed, skilled medical professionals. In a skilled nursing facility, these generally include physicians, specialists, registered nurses (RNs), licensed practical nurses (LPNs), certified nursing assistants (CNAs), physical, occupational therapists, speech/language pathologists and nutritionists, among others.
Skilled Nursing Services
This level of care is most often recommended for people who do not need the level of care provided by acute-care hospitals yet require a higher standard of care than can be easily provided via self or family care, home care services or the services of an outpatient clinic.
Among the crucial services that can be provided, as needed, by professionals in the typical skilled nursing environment are:
Intravenous (IV) care, including injections, IV hydration and IV feeding, or Total Parenteral Nutrition (TPN)

Complex wound care, such as care and dressing of surgical wounds or specialized care of decubutis ulcers (bed sores) and other types of slow or non-healing wounds, for example

Rehabilitative care, including physical, occupational and speech therapy

Medical monitoring, including tracking of vital signs and medical condition

Medication management and supervision

Pain management services

Management, maintenance and supervision of specialized medical equipment

Respiratory care and therapy

Tracheotomy care and other specialized medical care

Specialty services, like stroke, cardiac, orthopedic, pulmonary, diabetes and surgical rehabilitation and care, for instance
People who have a medical need for the level of care provided by skilled nursing services and choose to receive that care in a skilled nursing facility can also expect a number of other services to be offered according to their individual needs. These typically include personal care, which is help with tasks like bathing, dressing, grooming, eating, toileting and other activities of daily living. They may also include activities, like social events, arts and crafts, exercise group classes, and community teas or meals, for instance.
Many skilled nursing facilities also offer amenities like television, in room phones, Wi-Fi, exercise facilities, laundry service, restaurant style dining and beauty salon/barber shop services, among many others.