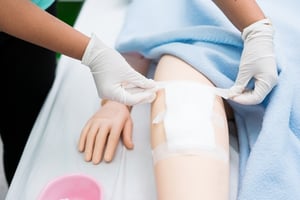 If you're in the hospital for rehabilitation and you have an ulcer, bed sore, or surgical wound, you may have been assigned a wound care specialist. A wound care specialist is a healthcare provider with advanced training in assessing, dressing, and caring for open, non-healing wounds.
Wound care specialists offer a unique skill-set and access to a number of healing technologies such as wound vac therapy, biogenic skin graft dressings, oxygen therapy, and digital thermography. While your podiatrist or other medical specialists may have received some training in wound care, a wound care specialist has advanced education and expertise in wound rehabilitation to help you heal.
You may not have known you needed a wound care specialist, or even what a wound care specialist was, but here are 3 ways in which they can assist in your recovery:
1. Prevent Infection
Infection is one of the riskiest complications of surgery or open wounds, especially a treatment-resistant infection like methicillin-resistant staphylococcus aureus (MRSA). If an infection enters your system through an open wound, it not only impairs the healing process, but it can also cause significant pain, make you feel sick, and pose further risks to your body.
In severe cases, infections can lead to sepsis, a life-threatening complication that requires quick action from your healthcare providers.
A wound care specialist is trained to detect infection right away. It's important to catch and treat infections in their earliest stages to keep them from spreading or causing irreversible damage. By protecting against infection, a wound care specialist could potentially save your life, especially when you're unable to see, feel, or reach your own wound.
2. Make a Full Recovery
Although some open wounds, like foot ulcers, are difficult to treat, your wound care specialist is your best ally toward recovery. Their entire focus is to help your wounds heal.
To help you make a full recovery, a wound care specialist:
Evaluates wounds for signs of healing or infection
Cleans out wounds and tubes
Changes dressings
Provides healing treatments
Counsels you and your family on home wound care and prevention
Notifies your doctor of any changes or concerns
Your specialist knows how to increase circulation, reduce pain, remove dead tissue, and create the optimal environment for healing. While they can't heal sores overnight, your wound care specialist helps you make the fastest progress toward recovery.
3. Avoid Amputation
Diabetic foot ulcers are the number one problem that lead to diabetes-related amputation. If your foot ulcer doesn't heal or gets infected, you could lose your foot or the bottom half of your leg. A wound care specialist helps you avoid this life-altering operation by taking care of your feet.
To keep a skin ulcer from progressing, your specialist may apply moist dressings, therapeutic pressure garments, and antibiotic treatments. Their close attention helps ensure you don't develop any new ulcers and that any ulcers you already have start getting better.
If an illness or injury leaves you immobilized, it's nice to have a wound care specialist who can monitor and treat sores that you can't reach. Many patients appreciate the support a wound care professional provides if open wounds make you or your family members squeamish.
A wound care specialist is one of your best advocates for improving your quality of life. Once you achieve recovery, you should be able to stand on or use the affected body part with much greater ease. With less associated pain, you should be able to move around and perform your normal activities again.
Hopefully now you have a better understanding of the roles wound care specialists play in your rehabilitation. Rehab Select provides on-site wound care services you'd usually only find in more specialized settings to give you the most comprehensive treatment during your inpatient stay. Reach out to us today with any questions about our facilities or how our wound care specialists can help.