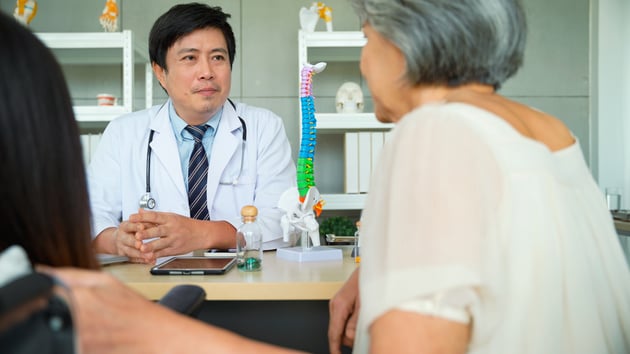 After spinal surgery, you'd want to heal as quickly as possible and resume normal activities. Post-op physical therapy (PT) is critical in this recovery process to help you minimize complications, shorten recovery time, and optimize treatment outcomes.
In fact, medical professionals encourage patients to perform goal-directed early mobilization as soon as they can after spinal surgery to counteract the adverse physiological effects associated with prolonged bed rest. Spine surgery patients who start physical therapy early tend to resume functional activities sooner than those who don't.
But you can't just move around and hope for the best! Working with an experienced physical therapist in an inpatient post-op rehab program is your best bet for a smooth recovery. These inpatient rehab facilities offer around-the-clock care and a dedicated team who will develop a spinal surgery physical therapy protocol based on your health condition and recovery process to facilitate healing while minimizing the risks of re-injury.
Here's what you need to know about spinal fusion physical therapy protocols, why they're important, and what to look for when selecting your inpatient rehab treatment options:
How Are

Back Surgery Rehabilitation Protocol

s Developed?
A back surgery rehabilitation protocol is developed based on your unique condition and requirements. It often includes physical movements, massage therapy, pain management, and injury prevention. Thermotherapy, electrotherapy, ultrasound, and heat or cold therapy may also be used to ease swelling and pain.
A typical protocol uses therapeutic exercises and functional activities to help you build endurance for various movements (e.g., walking) while regaining strength gradually. It often includes education components to show you how to conduct massage therapy and perform stretching exercises at home to improve agility. It may also involve using a corset or brace to support healing, especially in the early stages.
During later phases, a protocol incorporates flexibility and strengthening exercises to promote stability and trunk control so you can maintain correct postures. It also involves learning proper lifting techniques to help you minimize the chances of re-injury.
Why Are

Spinal Fusion Physical Therapy Protocols

Important?
Spinal surgery physical therapy protocols aim to minimize the development of scar tissue, reduce pain and inflammation, relieve joint stiffness and muscle tightness, and identify potential issues early in the healing process so the medical team can mitigate them before they turn into serious problems.
A well-designed PT protocol will help you strengthen and stabilize your neck and back and improve your posture to prevent re-injuries as your resume normal activities and become independent. Your therapist will also help you understand body mechanics to ensure you can move around safely.
Additionally, a back surgery rehabilitation protocol lays out a phased, week-by-week approach broken down into elements with specific focuses to support your body's healing process without rushing into doing too much too soon and risk reinjuring yourself.
What to Look for in a

Spinal Fusion Physical Therapy Protocol
A back surgery rehabilitation protocol is your roadmap to post-op recovery. However, there's no one-size-fits-all approach—variation in the surgical technique and the patient's diagnosis means some exercises may not be appropriate for certain people.
So how do you know if you're in good hands at an inpatient rehab facility?
Here's what to look for in a spinal surgery physical therapy protocol:
A Personalized Plan
Physical therapy protocols are simply guidelines. Your therapist should customize your treatment plan based on your surgical team's recommendations. An experienced rehab therapist will combine proven methods with their assessment of your health condition to develop a personalized plan for your healing journey.
Safety is Paramount
Your personalized treatment plan must prioritize your safety to avoid re-injury. For example, it should prevent excessive initial mobility or stress on the tissues, avoid exercises that exacerbate the pain, and exclude excessive lifting, twisting, or bending for the first six weeks.
Enhanced Recovery After Surgery (ERAS®)
The ERAS approach creates an integrated continuum that addresses a patient's journey from preadmission through postoperative phases. PT should be part of this patient-centered, evidence-based, multi-disciplinary approach that reduces a patient's surgical stress response and accelerate recovery.
Pain Control
It's very challenging to complete an inpatient rehabilitation program if you're in pain every time you move. Your physical therapist should help you control pain, which will allow you to better follow the protocol and perform the appropriate exercises to regain your strength.
Progress Monitoring
Each patient heals differently—you may progress faster or slower than the recommended timeline. Your therapist should monitor and assess your progress frequently to ensure you're hitting the milestones before moving on to the next phase of the protocol.
Education and Guidance
Your therapist will answer your questions, help you understand the physical changes you experience, and show you how to exercise correctly to maximize the benefits of your back surgery. They will provide guidance on how to perform various exercises at home to keep improving your strength and flexibility.
A Multi-disciplinary Approach to Back Surgery Rehabilitation
Orthopedic rehab aims to restore mobility and motor function, build strength, and support recovery from injuries affecting the muscles, bones, and joints—including injuries to the spinal column and spinal cord. Your care team will incorporate spinal surgery physical therapy protocols and other modalities, such as occupational therapy, to help you adapt to your new physical abilities.
An inpatient orthopedic rehab program conducted under professional supervision at a reputable facility is one of the best ways to help accelerate your healing process so you can resume normal activities safely post-op. It also provides technologically advanced care techniques, such as state-of-the-art electric nerve stimulation devices to improve nerve responsivity in the spinal cord.
Looking for physical therapy after back surgery in Alabama?
Rehab Select offers post-surgical orthopedic rehab that incorporates a multi-disciplinary approach into a broad-based, integrated, and customized treatment plan to help shorten back surgery recovery time while improving your treatment outcomes. Schedule a tour to see how we can be part of your healing journey.
Recovery from back surgery in Alabama
While safe recovery from back surgery can't be rushed, there is a right and a wrong way to do it. Rehab Select's post-surgical inpatient rehab is provided by a team of highly skilled professionals who will tailor a recovery plan to meet your specific needs. Choose from one of the five Alabama locations of Rehab Select as the place to ensure a safe and successful return to your workplace, family, and social life. Click here to schedule a meeting or tour today to see how we can help you on your journey of recovery.