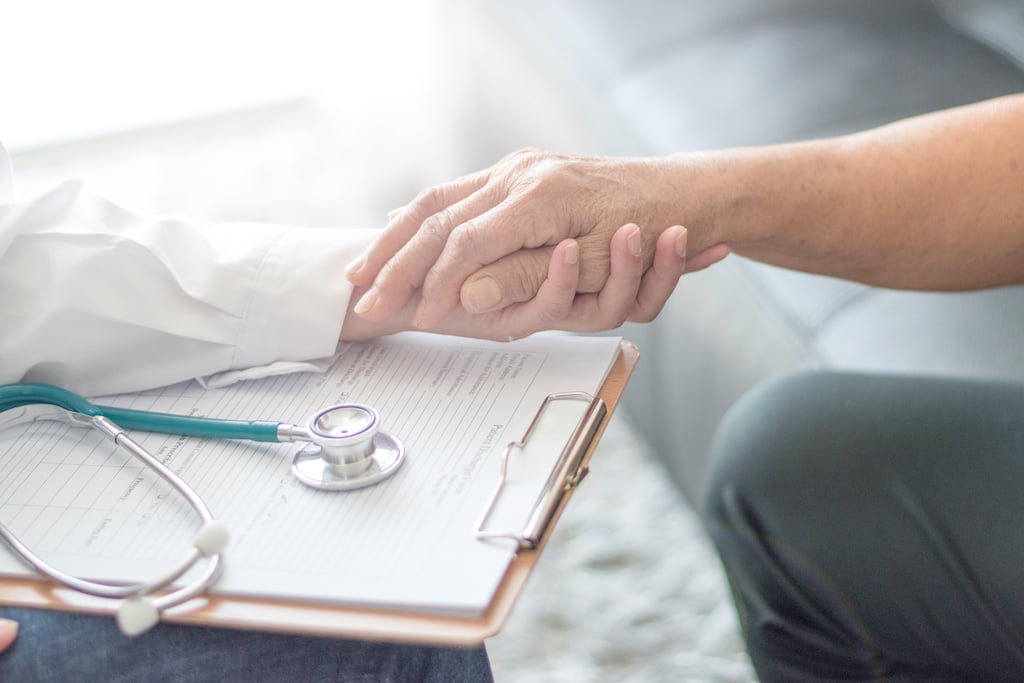 Choosing a memory care home to entrust with the care of your loved one requires a great deal of consideration. Knowing their caregivers will do a superb job can go a long way to easing concerns. Read on to find out how to pick the best facility to care for your loved one with Alzheimer's or dementia.
Download our ebook to learn the most important factors when considering memory care services for your loved one with Alzheimer's or dementia.
What should you expect from a skilled nursing facility with memory care?
The best long-term nursing facilities prioritize a person-centered approach to care. This approach should be evident in everything from the design of the building to the attitude of the caregivers.
Highly skilled staff at memory care facilities can improve your loved one's quality of life, make sure they're kept safe, and help manage their symptoms. They should offer a safe, structured environment with activities addressing the unique challenges faced by dementia and Alzheimer's patients to make day-to-day activities less stressful.
What is a person-centered approach to memory care?
In dementia care training and early-onset Alzheimer's treatment today, experts keep the focus on learning what abilities patients have and using this knowledge to build a meaningful relationship with them. Caregivers can find out about a residents' lives, their likes, dislikes, interests, abilities, and limitations by asking questions, observing reactions and behavior, and sharing important information with the rest of the caregiving team.
Great memory caregivers should feel like "care partners" who help your loved one live to the fullest. This partnership can involve customizing activities with their needs in mind and offering them opportunities for decision making to help maintain their cognitive skills.
A person-centered assessment is also a very important part of your loved one's memory care experience. Staff should carry out a holistic assessment of their abilities, limitations, and history and draw up a care plan. It should examine their physical and cognitive health, their vision, hearing, and other senses, and their ability to make decisions and communicate. Family members should be welcome to contribute their input to the assessment. In addition, staff should talk with family to access medical records and observe their reactions to produce a complete assessment.
Results will then be discussed among all staff to create a customized care plan. As dementia and Alzheimer's are progressive conditions, assessment should be an ongoing process. Significant changes in physical, cognitive, or emotional health should be investigated or referred to specialists if necessary.
Keep in mind that experienced staff will understand that your loved one's preferences, capacities, responses, and behavior may change throughout the day and make allowances for this as necessary.
What are memory care requirements for staffing and training at Alzheimer's facilities?
Patients in memory care have different needs from those in long-term care for other reasons. In the best facilities, caregivers are specifically trained to meet the unique needs of those with dementia and Alzheimer's.
Before you simply Google "Alzheimer's facilities near me," here's a word of caution. There are no nationwide dementia care training or certification standards for memory care staff, although states like Alabama have set minimum requirements for all staff who work in memory care.
These minimum requirements include the following:
All staff must complete a dementia care training course called The Dementia Education and Training Act (DETA) Brain Series. This is a training course designed by the Alabama Department of Mental Health. The course provides essential information about Alzheimer's disease and useful skills for communicating with people with dementia, managing difficult behaviors, and working with families and other caregivers. The course also covers how to encourage patient independence when it comes to activities of daily living (ADLs) and how to spot and reduce risks to the resident's safety.
Staff must be given at least six hours of continuing dementia care training every year.
At least one staff member trained and certified in CPR should be present at all times. If there is an automated external defibrillator (AED) machine on site, the memory care facility must also have a staff member with the certification and training to use it.
In addition, registered professional nurses and unit coordinators must also complete a course on the Pharmacological Management of Dementia as well as The Dementia Assessment Series.
Keep in mind that the best skilled nursing facilities for Alzheimer's and dementia patients will have their own training requirements in addition to state mandates. You should feel free to ask about staff training when you visit a prospective nursing facility.
What are the key skills memory care professionals need?
Staff need certain skills to be equipped to deal with many of the memory care requirements associated with Alzheimer's disease or dementia. A thorough memory care training program takes a holistic approach and covers topics like:
Assistance with mobility
Preventing falls
Basic hygiene and preventing infection
Basic personal safety precautions
Bathing, toileting, and personal care
Communication techniques
Detecting, reporting, and preventing abuse and neglect
Diffusing and preventing challenging behavior and avoiding stressors
Emergency procedures, including basic first aid
HIPAA client confidentiality
Research-based memory care methods
Supporting patients through mood swings, disorientation, and even delirium
In a skilled nursing facility offering memory care, staff should continually make sure residents eat, partake in activities, and generally follow a schedule.
Staff with dementia care training and years of experience have honed their skills and grown their knowledge of how best to meet memory care requirements. Experience also means staff know their way around the local medical system and have a relationship with clinics, pharmacists, and other providers, allowing them to leverage these resources to benefit your loved one. They'll also have good knowledge of how insurance, Medicare, and Medicaid can be made to work in your favor.
What memory care staffing policies should I expect?
Because memory care requirements are much more intensive than typical long-term care, the higher the staff-per-resident ratio, the better your loved one's needs can be met. The very best institutions offer a ratio of 1:3, which means there is one staff member for every three residents.
However, you need to double-check such figures. The staff-to-patient ratio given to families looking for a care facility is often based only on the day shift—the night shift ratio can be much lower. Another thing to watch out for is that some facilities count non-caregivers (such as cleaners or gardeners) when calculating their ratio.
A good staff-to-resident ratio with round-the-clock nurses and certified nursing assistants means a memory care facility can give high-quality 24/7 supervision and support.
Residents will often require medical intervention, so you should also ask if the facility has a medical director and provides on-staff physicians, psychiatrists, and speech, physical and occupational therapists to handle medical and therapeutic needs without having to leave the residence.
Another thing to expect is that a good memory care facility will make sure the same staff members look after your loved one as much as possible. Alzheimer's treatment requires stability and consistency in a patient's life.
What treatments should patients with Alzheimer's or dementia receive?
Although your loved one will experience impaired memory and cognitive judgment, both memory and cognition can be improved with use. The staff at an excellent memory care facility will offer memory-enhancing Alzheimer's treatment, therapies, and activities that use techniques to maintain patients' abilities and slow their decline as much as possible.
These may include:
Arts and crafts therapy for sensory stimulation and to allow residents to express themselves
Behavior management programs
Exercises to maintain balance and muscle strength
Music therapy to regulate mood
Mental health therapy to tackle anxiety or depression
Games to provide social engagement and improve motor skills
Occupational therapy to strengthen and improve cognition, body function, sensation, and perception
Speech therapy to improve cognition, speaking, and swallowing food and water
Memory care requirements for food and fluid management
Patients with dementia or Alzheimer's can struggle when it comes to eating and drinking, risking nutritional deficiencies, and weight management issues. These problems can stem from a loss of appetite or an inability to feed themselves or swallow solids or liquids.
Attentive memory care staff will accompany and supervise residents while eating and drinking and use behavior management techniques while also maintaining the social aspect of dining for your loved one.
High-quality memory care facilities will also offer meals planned by a nutritionist to meet the dietary requirements of residents and provide the macronutrients, micronutrients, and vitamins that preserve or enhance cognitive functioning.
Memory care requirements for pain management
Experienced memory care staff should be well-equipped to spot signs of pain in residents and use appropriate pain management techniques. When people with dementia suffer pain, it can be missed or go untreated due to their communication problems. Failure to identify and manage pain correctly can lead to suffering, behavioral problems, and even the incorrect prescribing of psychotropic medications.
Memory care requirements for social engagement
Fulfilling a dementia patient's normal and daily need for social interaction, emotional engagement, and mental stimulation is critical for their care. Without such treatment, residents can be at risk of developing depression which can cause thinking and memory skills to decline more quickly.
Caregivers should provide residents with a schedule that is structured but flexible. Each day should include activities that will lift your loved one's spirits, help them relax, interact socially, and maintain brain function. Activities include:
Community trips
Events
Exercise and fitness opportunities
Games and contests
Intergenerational activities
Pet visits
Professional entertainment
Recreational activities
Religious services
Social gatherings
Study groups
Word games and puzzle
Such activities can create an environment that fosters community and allows your loved one to experience a sense of belonging.
Memory care requirements for communication
Communication can become difficult for people with dementia and Alzheimer's. Skilled memory care staff should be able to communicate effectively with your loved one and correctly interpret what they want to say.
They should show plenty of patience and allow residents the space and time to express themselves. Caregivers should also be aware that the behavior and emotional expression of residents is a form of communication for those unable to say what they want directly. They should be able to speak to residents in a simple, straightforward way, using gestures and even writing or pictures if necessary.
Memory care requirements for a safe physical environment
Residents with Alzheimer's and dementia can be prone to wandering, so a good memory care facility should allow residents the freedom to move around within a safe, welcoming, and secure environment. Rooms and corridors should be designed with the special needs of dementia and Alzheimer's patients in mind. Exits leading to outside the facility should be locked or fitted with alarms unless they lead to secured areas such as fenced therapy gardens or patios.
Features to look for include:
24/7 supervision and alert systems
Access controls
ADA-compliant assistance devices
Cameras in shared areas and corridors
Emergency and evacuation planning
Emergency response systems
Handrails
Heat, smoke, and fire detection
Security system
Soundproof walls
Wandering prevention system.
Choosing a care home for dementia
The right memory care facility can make a remarkable difference in your loved one's well-being. If you're asking where the best memory care facilities near me are, know this: The best way to assess a long-term care facility is to schedule an in-person visit. At Alabama-based Rehab Select, we provide comprehensive dementia care training for staff, along with care planning and strategies for addressing behavioral and communication challenges. We take pride in our safe and comfortable environment for all patients, including ones needing early-onset Alzheimer's treatment.
If you're in the process of choosing a care home for dementia or Alzheimer's, please feel free to schedule a tour of one of our five Alabama facilities to find out how we create a warm, comforting environment for all our memory care patients.