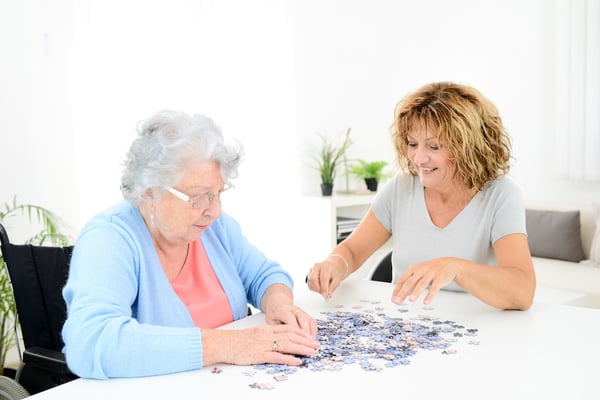 From facility amenities to staffing and activities, selecting the right memory care services for your loved one can be quite daunting. How can you navigate the nuances to make the right choice?
Download our ebook to learn the most important factors when considering memory care services for your loved one with Alzheimer's or dementia.
While you can gain insights from online research, there's nothing like touring facilities and talking with the staff to see if the memory care services are right for the individual with Alzheimer's or dementia.
Asking the right questions can give you the insights you need to make the right decision. Here's what you should look for when visiting a memory care facility and what you can learn from the answers.
7 Questions to Ask When Choosing Memory Care Services
These questions can help you understand what you can expect from a memory care facility, determine the quality of care, and see if it's the right choice for your loved one.
1. What are the memory care facility's features and amenities?
The features and amenities provided by different memory care facilities can vary widely. For example, some may cater to special diets while others offer care coordination. Inquire about a facility's offering to see if it can meet your loved one's needs, preferences, and priorities.
Take the time to learn about day-to-day activities, visiting policies and how meals are served. Find out if the facility offers fitness or wellness programs and how the amenities support daily memory-enhancing activities.
2. How does the building design support patients with memory conditions?
Memory care services should be offered in a warm and welcoming environment with design elements to help residents navigate the building, minimize confusion, and reduce the risk of wandering. Besides enhanced safety, these features can reduce the stress of being in a new living arrangement.
Look for soundproof walls and short, distinctive hallways. Also, consider the availability of mobility assistance, fall prevention features, and therapy gardens. The facility should also encourage residents to personalize their living spaces (e.g., family photos.)
3. What security methods and safety features are available?
Safety is a top concern in dementia care. Memory care facilities should have the appropriate technologies and features to help prevent dangerous behaviors that can cause accidents and injuries. Look for details such as motion sensors and automatic lights, low-grab handrails and emergency call buttons.
The facility also should provide around-the-clock supervised care by qualified medical professionals and have an emergency alert system to monitor all residents. There should be alarms on emergency exits, safety locks on outdoor fences and secured or interior placement for courtyards.
4. How do you devise and maintain a care plan?
Every dementia patient has unique requirements, so you should look for a human-centered program that considers each resident's preferences, capabilities, medical history, and care needs. The staff should conduct an initial memory care assessment to understand the patient's needs and develop a personalized care plan.
Since dementia is a progressive condition, the facility should evaluate the care plan regularly (e.g., every two to three months) with input from nurses, family members, medical staff, and executive directors. Ask how the facility manages changes in care plans to ensure that they continue to support the patient's conditions. 
5. Are your staff trained specifically to care for dementia patients?
Dementia patients need specialized care. See if staff members meet your state's training and certification requirements. Ask how they handle and prevent challenging behaviors, such as resisting care, anger, and aggression to assess if the facility's philosophy of dementia care is aligned with your expectations.
Inquire about the type of dementia care techniques used and how the staff handles disruptive behaviors. Also, ask about staff ratios and assignment practices. The right facility will try to assign the same staff members to care for your loved one as much as possible to ensure consistency and reduce the stress level associated with changes.
6. Do you have medical professionals on staff?
Many dementia patients have other ailments. Look for memory care services with physicians, RNs and/or LPNs on staff to respond promptly to physical and medical needs and oversee ongoing care. The facility should have a medical director to oversee the residents' physical and emotional well-being and ensure optimal care coordination and medication management. In addition, facilities may have specialists that regularly round, such as psychiatrists or physicians focused on diabetic wound care.
Also, a facility should be able to meet your loved one's chronic medical needs by offering on-site therapy services to expedite care. For example, ask about access to physical, occupational and speech therapy. Onsite services can lower the stress associated with receiving care, by minimizing the need for travelling to a different location.
7. What memory-enhancing therapies and activities do you offer?
Customized therapies, treatments, activities, diet plans, and lifestyle changes can help slow down the progression of dementia symptoms and improve quality of life. Also, ask how the facility designs daily activities to meet the residents' interests and enhance their experience. 
Memory care services should include art therapy, music therapy, sensory and tactile stimulation, and occupational therapy. They should also offer memory-enhancing activities such as puzzles and board games, pet visits, and hobbies, such as painting or crafts.
Memory Care Facilities in Birmingham, AL and Surrounding Areas
Memory care services are typically a long-term care option. The right facility should not only meet the patient's needs but make them feel welcomed and at home to reduce the stress of the transition.
The provider should offer a structured schedule and innovative programming to support residents emotionally, mentally, and physically. Meanwhile, it should have the right safety features and medical support, such as 24-hour personalized care, specially trained staff, on-site therapies, behavioral management programs, and ultramodern monitoring systems.
When looking for memory care facilities in Birmingham, AL and surrounding areas, consider Rehab Select. Rehab Select's memory care services are known throughout the region for specialized, personal care. Rehab Select employs therapists and clinicians to support our long-term care residents, including Alzheimer's and dementia patients, to deliver best results and experiences.
Schedule a tour to see how we can provide the best memory care services for your loved ones.