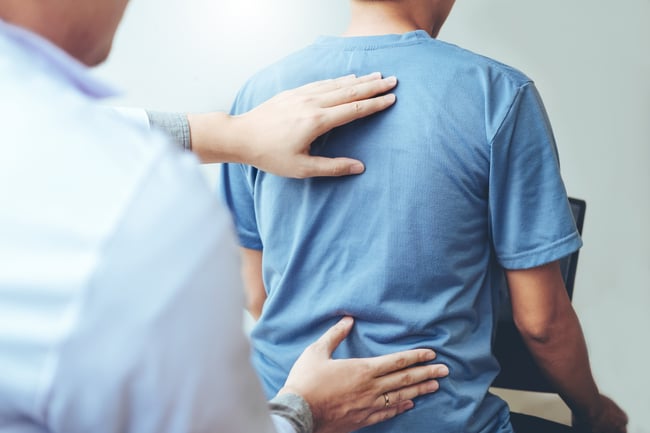 Every day, over 250,000 Americans face the challenges of living with a spinal cord injury. Spinal cord injuries can affect every aspect of a person's life and usually require ongoing comprehensive spinal rehabilitation. Unfortunately, there is no way to reverse a spinal cord injury. But with intensive inpatient spinal rehabilitation, many people with spinal injuries are supported to lead independent, fulfilling lives.
What are spinal cord injuries?
Spinal cord injuries are any damage to the spinal cord and/or its nerves. The spinal cord is made up of a long tube of tissue that connects the brain to the lumbar spine region. It acts as a transmitter of signals, messages, and commands from the brain to tissues throughout the body. Any damage to the spinal cord can impact a person's bodily sensation and ability to make voluntary movements.
The severity of the injury will determine how much a person's movement and sensation are impacted. Spinal cord injuries commonly result in changes to sensation, bodily control, strength, and motor function in the affected areas. Spinal cord injuries often cause a degree of paralysis, requiring ongoing spinal rehabilitation.
Medical advancements are rapidly improving health outcomes for survivors of spinal cord injuries. While injuries are often permanent, rehabilitation can make a big difference to the patient's quality of life.
Challenges in

spine and disc rehabilitation
A spinal cord injury can be complete or incomplete. In complete spinal cord injuries, the spinal cord is severed, eliminating all functions below the injury site. Incomplete spinal injuries involve compression or injury to the spinal cord, but some remain intact and continue to send messages below the injury site. The severity of an individual's spinal cord injury will determine its ongoing impacts.
Rehabilitation for spinal injuries is focused on protecting and restoring as much bodily function as possible. It also manages and treats secondary conditions that can occur as a result of spinal cord injuries. These can include:
Muscle spasms

Urinary tract infections

Chronic pain

Deep vein thrombosis

Respiratory infections such as pneumonia

Pressure ulcers

Autonomic dysreflexia

Depression or mental health concerns (present in

20-30%

) of spinal cord injury survivors
Effective rehabilitation following a spinal injury is crucial for the patient's long-term well-being and recovery prospects. Recovering from a spinal injury is a long and complicated process, but tailored inpatient rehabilitation can go a long way in improving patient outcomes.
Physical therapy for spinal cord injuries
Immediately after a spinal cord injury, treatment is focused on protecting vital functions and preventing further spinal cord damage. Rehabilitation for spinal cord injuries begins with admission to the hospital and aims to stabilize the patient's neurological state. Following the emergency treatment phase, patients require ongoing comprehensive care from a range of multidisciplinary medical professionals.
Rehabilitation for spinal cord injury survivors includes physical therapy to support spine and disc rehabilitation. The amount of bodily function that can be restored varies between individuals and usually happens in the first 18 months of recovery. Rehabilitation aims to strengthen the muscles and the neural pathways between the spine and body tissue, in the hopes of restoring sensation and function. One of the most important features of rehabilitation for spinal injuries is preventing and managing stiffness and tension in the limbs and joints.
Spinal cord rehabilitation requires a comprehensive and holistic approach, so inpatient rehabilitation is often the most effective option. Inpatient rehabilitation after back surgery or injury has many benefits. Patients can be supported in their transition from hospital to living independently by a dedicated team. Care teams work together to provide personalized spinal rehabilitation for back surgery patients and spinal cord injury survivors.
Rehabilitation for

spinal surgery in Alabama
Rehab Select's specialized inpatient rehab center offers personalized, holistic care and rehabilitation for survivors of spinal injuries. Every spinal rehabilitation program is uniquely tailored to the individual spinal injury patient. However, features of spine and disc rehabilitation programs often include:
Physical therapy for back surgery

Manual therapies, such as massage and traction

Assistive technologies to increase independence and well-being

Electrical stimulation of damaged nerves

Pain management

Nutrition management

Psychological counselling

Support for re-entering the community
Rehab Select provides inpatient orthopedic rehab, a program designed to help patients recover from injuries affecting the muscles, bones, and joints, including injuries to the spinal column and spinal cord. Our multidisciplinary team offers programs combining multiple therapies in an integrated, customized treatment plan.
Patients often require extensive physical therapy and occupational therapy to help adjust to their new physical condition. To find out how we can support you or a loved one to recover from a spinal cord injury, contact us to schedule a tour of our facilities today. Our experienced and friendly team members will be happy to answer your specific questions about treatment, insurance policy options, and more.