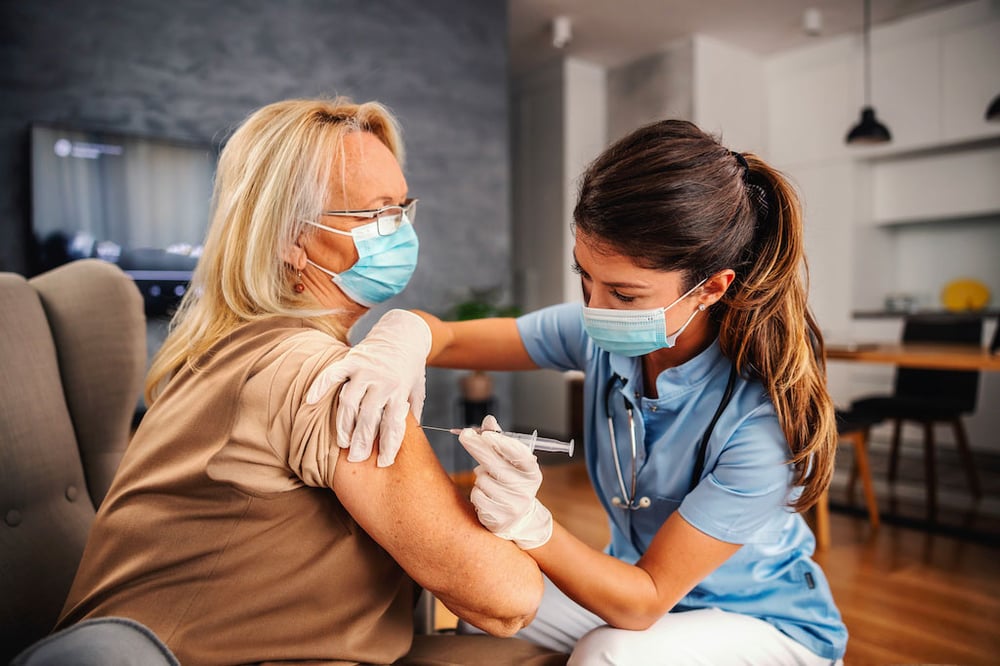 In a recent survey, up to 35% of adults who tested positive for COVID 19 report still feeling the effects of the infection two to three weeks after diagnosis. After the initial illness, the virus can cause lasting effects, particularly to the lungs, heart, and brain.
Fortunately, rehabilitation therapies are available to help address many of these lingering effects. As with other health conditions, specialists can provide the best means to improve your physical and cognitive recovery.
To understand how COVID recovery programs work, let's take a look at the ways the virus impacts the body and how rehabilitation therapies can maximize recovery.
Let's discuss what we know about the long-term effects of COVID, and the role therapy plays in your recovery.
COVID Long-Term Effects
The majority of adults who catch COVID-19 make a full recovery. However, those with pre-existing health conditions or severe cases of coronavirus usually encounter the most side effects long after infection.
The majority of adults who catch COVID-19 make a full recovery. However, those with pre-existing health conditions or severe cases of coronavirus usually encounter the most side effects long after infection.
The following conditions appear to make you predisposed to lingering symptoms:
High blood pressure
Obesity
Mental health condition
While the infection usually resolves within two weeks, some post-COVID symptoms may still be present weeks or months after infection.
Post COVID-19 symptoms
Many adults report symptoms they just can't seem to shake after two to four weeks. If your symptoms continue after four weeks, you might benefit from more support to help you recover.
The most commonly reported persistent symptoms include:
Weakness
Fatigue
Body aches
Fever
Cough
Shortness of breath
Chest or stomach pain
Confusion
In the most severe cases, the stress COVID-19 causes in the body can lead to lasting organ damage to the heart, lungs, and kidneys. The condition can also impact mood and memory in the long run.
COVID-19 Long Haulers
The term "COVID long haulers" is used to describe adults who still feel symptoms a month or more after diagnosis. COVID-19 long haulers are among the groups that may benefit the most from rehabilitation therapy.
Post-COVID therapy can target complications from coronavirus like fatigue, lung damage, and heart inflammation. This type of therapy requires special considerations and a unique approach.
Vital Elements of Post-COVID Therapy
Adults with lingering symptoms may need extra support with COVID recovery therapy. Prompt rehabilitative care helps improve symptoms like heart and lung damage.
Since the infection affects each person differently, rehabilitation for COVID looks different for everyone. Post-COVID therapy is personalized to your most significant areas of need.
The following elements play an integral role in post-COVID rehabilitation:
An individualized care plan: The unpredictable nature and variety of symptoms each person experiences requires a customized, flexible treatment plan.
Comprehensive care: Different specialists (physical therapists, occupational therapists, doctors, etc.) address the various COVID long-term effects to your life and body from multiple angles.
Constant monitoring: Providers keep a close eye on vitals, such as oxygen levels, blood pressure, heart rate, and temperature, to measure your progress and tolerance to treatment.
These elements are the basis upon which your care team launches your COVID recovery plan.
Role of Therapy for COVID-19 Long Haulers
Prolonged side effects like cognitive impairment and weakness often affect your everyday life. Therapies like physical and occupational therapy can help you overcome or get around deficit areas to get back to normal living.
The purpose of rehabilitative therapy is to help restore you to pre-COVID function, work around limitations, and promote the best quality of life.
Physical therapy
If your illness results in loss of strength or lung capacity, physical therapy can help you regain some of your abilities in a safe, gradual way. Without treatment, you risk staying in your deconditioned state. Early, assertive treatment usually results in better outcomes.
Physical therapy involves a number of manual and mechanical techniques to improve your physical capacity. Your therapist can provide breathing techniques to optimize lung capacity, corrective exercise to improve function and posture, progressive resistance training to build strength, and movements to promote pain relief, among many others.
Occupational therapy
The purpose of occupational therapy for COVID is to help you continue activities you normally perform in daily life. Your therapist can help address activities related to work, self-care, hobbies, and other interests.
During therapy, you might work on tasks like getting dressed, making meals, walking up stairs, and managing medication. Your therapist can provide adaptive equipment and modification recommendations to help you handle day-to-day activities.
If you have lingering brain fog or problems concentrating, your providers can work with you on mental training exercises and provide tools to help optimize your thinking abilities. Your therapist helps you work through the physical, mental, and cognitive challenges created by coronavirus.
Other providers such as speech-language pathologists, counselors, nurses, dietitians, and specialists also play a role in a comprehensive COVID recovery plan. Each specialty provides a complementary role in your recovery.
Rehab Select's COVID Recovery Program
In response to the growing need to address post COVID 19 symptoms, Rehab Select is among the first facilities in Alabama to open dedicated recovery units at all its locations. A team of specialists address the top concerns of a skilled nursing facility along with special considerations for COVID.
Specially trained nurses and staff oversee the care of those recovering from the virus, so residents aren't disrupted from their continuum of care. The facilities also help reduce transfer to over-burdened hospitals and help prevent virus spread in the vulnerable nursing home environment.
Rehab Select offers access to practitioners with COVID experience in partnership with the University of Alabama at Birmingham and the CODA/PTA. This program provides you or your loved one with the most accessible, up-to-date resources available to protect your health.
If you're interested in learning more about our Alabama post-COVID recovery program at Rehab Select, contact the facility online or schedule a tour.