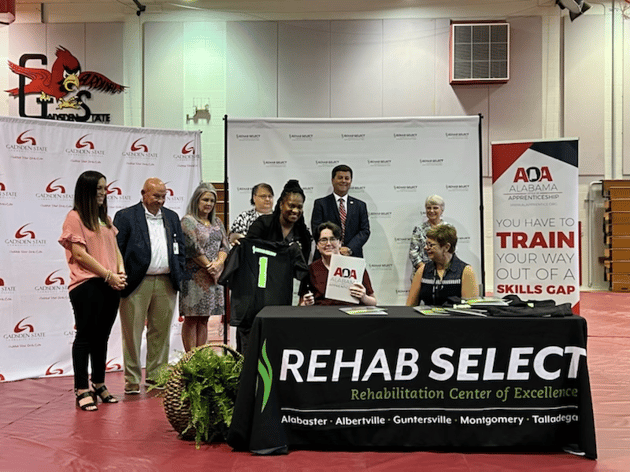 This nursing apprentice model, the first of its kind in the nation, eliminates barriers to students who wish to practice nursing and helps healthcare providers safely fill critical staffing shortages.
It's no secret: the labor market in the US has been shaken up, with two job openings for every job seeker. In the field of nursing, the shortage is acute. One report estimates that a third of nurses plan to leave their jobs in 2022 with anywhere from a 200k to 450k shortage expected by 2025 without corrective action. The strain of COVID-19 combined with an aging population in need of nursing care are cited as drivers. Add to the fact that local facilities often lose workers to more lucrative travel nursing jobs, and you can see that the issue is quite extreme.
But in Alabama, a consortium of healthcare entities, educational institutions, and government agencies have joined forces to help to curb this impending healthcare crisis. What's remarkable, however, is how their nursing apprenticeship solution opens avenues for staffing while also positively impacting nursing education. In the process, the state is trailblazing a program that is attracting national attention.
The History of the Nurse Apprentice Act
Meredith Smith, Statewide Project Manager at the Alabama Office of Apprenticeship, is instrumental in implementing this new apprentice program. Recently, she sat down to talk with us about the impetus for this novel approach as well as the progress thus far.
Smith, whose office is responsible for the oversight and registration of all registered apprenticeships in Alabama on behalf of the US Department of Labor, heads up the compliance monitoring and technical support for all apprenticeships. When she was hired for her role in 2020, Josh Laney, Director of the Alabama Office of Apprenticeship, had already begun working with the state's Community College System, Board of Nursing, and the Alabama Nursing Home Association on a historic bill that would authorize the Alabama Nursing Apprenticeship Program. Unfortunately, it was held up by the pandemic, but the group persevered.
In March of 2022, The Nurse Apprentice Act went into effect, allowing healthcare employers to enter into an apprenticeship agreement with a sponsoring community college or university. Students who apply and are accepted as nurse apprentices serve as employees of the hiring healthcare facility where they work alongside an experienced nurse as they complete their education.
How is the Alabama Nurse Apprentice Act Unique?
Smith's office worked with the key partners to develop the apprenticeship training plan that underpins the program, including detailed benchmarks that an apprentice must complete with their preceptor and a structured wage progression that's in alignment. Wages for students increase with the progression of competencies. Now, students who might have foregone education for employment can have both.
While other states do offer nursing apprenticeships, those are designed for CNAs who want to further their training to become RNs. Alabama's program is the first pre-licensure apprenticeship, open to LPNs and RNs.
How Does the Alabama Nurse Apprenticeship Program Work?
"All apprenticeships, whether nursing or not, have a sponsoring entity who is running the program. With the nursing apprenticeships, the nursing school is serving as the sponsor," Smith says.
The community colleges head up the application process, the record-keeping and the administrative tasks. If students are interested, then they apply to the sponsor and then the healthcare employers go through their internal HR hiring process and select which students they'd like to hire.
An apprentice is a permanent employee, and as such, the normal HR processes apply.
During the apprenticeship, each student is assigned a mentor to work with. "In every apprenticeship, you have a ratio of mentors to apprentices, but in nursing, that ratio is 1:1," says Smith. As students work with mentors, they are validated on competencies. Mastery consists of fulfilling that competency consistently over a long period of time under close mentor supervision.
What does the Nurse Apprentice Act Mean for Students?
During their apprenticeship, students are paid for their clinical hours. This is significant for students, as Smith points out. "We have students who have so much potential, but they drop out because they can't afford to pay for the classes, or because they're working too many hours, so being paid for the clinical hours can be such a game changer for them."
In addition, employers agree to provide the last dollar scholarship for students as well, promising to pick up any outstanding debt after scholarships are cleared. "It's designed to enhance the employer's recruitment potential as well as remove barriers for the participants," Smith explains. That investment on behalf of the employer really builds a sense of loyalty in the apprentice, enhancing employee retention. "Nationally, 90 percent of our apprentices are still with the employer they trained with two years after completing an apprenticeship," Smith says.
What does the Nurse Apprentice Act Mean for Healthcare Employers?
With this nursing apprenticeship, employers get to grow their own staff by hiring students a year before they finish nursing school. "They're getting to recruit early, to onboard them, orient them, and train them," Smith says. Employers not only get to reinforce skills, but they can train an employee in organizational policies while the student is building strong relationships with other healthcare professionals they'll be working with.
Employers can also upskill their current employees in this program, supporting a current CNA to become an LPN or RN.
Forging Ahead: The Promise of the Nurse Apprentice Act
This program represents an innovative solution to the nursing shortage. Students are getting paid good wages for practicum hours. Meanwhile, employers have another hand on deck who is supervised and trained in organizational best practices, at less than the cost of hiring a new graduate. "Apprenticeship is a proven strategy for helping employers recruit, train, and retain highly skilled employees," Smith says. "We're so proud to be part of this work and we believe in the impact that it's going to have."
The entire program is representative of what can happen when organizations come together to compromise and create solutions together. As the first long-term care facility that came on board as an employer, Rehab Select was instrumental in working with the legislature to see that this program was successful. "We are proud to support this initiative and committed to working with the Alabama Office of Apprenticeship to support its continued success," says Bobby Stephenson, business development director for Rehab Select. The program has already kicked off with 11 participating colleges and universities with more than 30 employers, and those numbers are continuing to expand rapidly. Employers can learn more about this program and contact the Alabama Office of Apprenticeship for more information on participation.