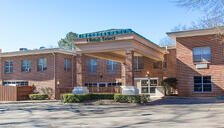 Re-hospitalizations and potentially avoidable hospitalizations: they are hot topics amongst hospitals and other care facilities. Since late 2013, hospitals have been measured by—and fined for—instances of re-hospitalization, and the percentage of dollars fined per occurrence is set to increase in 2015.
As long-term care facilities, we acknowledge our role in the number of patients sent to hospitals when their needs might be better served without the stress, cost and dangers of transfer. Fortunately, AQAF (the Alabama Quality Assurance Foundation) has put in place standards, educational opportunities and an exclusive CMS Initiative to Reduce Avoidable Hospitalizations aimed at remedying the issue of over-hospitalization; and the good news is, it's working.
Only 23 facilities were chosen in 2012 to be a part of CMS and AQAF's Initiative to Reduce Avoidable Hospitalizations. Three Rehab Select facilities made the cut. Today, we're proud to announce that Rehab Select at Talladega has been named the #1 facility in the Initiative for lowest hospitalization rates in Q1 2014. This is a huge achievement for patients, facilities, and the care community in Alabama and beyond. How are we making such a big difference? By improving processes and educating staff, by advocating for thorough assessment of patients, and by making more specialists than most competitors available at our facilities for precise diagnoses and less trips to the hospital.
We learn from each case, better our response every time we assess a patient and don't stop at discharge by partnering with home health providers to ensure our patients don't end up in the ER needlessly after they leave us. Together, we can make a difference in re-hospitalization rates. Want to get involved? Rehab Select is continually looking to collaborate with hospitals, home health companies and hospice facilities interested in fostering communication and continuity of care that reduces unnecessary hospitalization.
Please contact Bobby Stephenson at 844-734-2200 for more information and visit Rehab Select Talladega on the web to learn more about how we're changing patient treatment for the better, one Alabama community at a time.