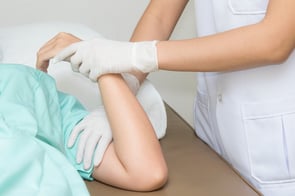 If you or a loved one have suffered a stroke, chances are you have already been told that rehabilitation therapy is an integral part of any effective stroke recovery plan. You have likely also been asked to choose among a list of options for receiving that therapy. These will typically include both inpatient and outpatient rehab programs. Ultimately, the decision as to whether you should choose an inpatient or outpatient short term rehab program is one that should be made in close consultation with your medical care team.
That said, it is important for you to be well-informed on treatment options. While medical recommendations are given by highly-educated experts and should carry a great deal of weight, input from those closest to each situation—patients/family caregivers—is invaluable in planning care that best meets the individual needs of each stroke survivor. Here, we'll outline some key points to consider as you weigh your stroke recovery options.
Inpatient and outpatient short term rehab programs: The Basics
Outpatient short term rehab programs entail attending a series of appointments at a rehabilitation clinic or private practice. While each of these programs is different, patients can generally expect to have an initial evaluation to assess their therapeutic needs, after which a treatment plan will be formulated. Treatment typically consists of one to three hours of therapy sessions—which may include physical, occupational and speech therapy, among others—several times per week. Between those sessions, patients are typically expected to perform prescribed exercises and activities on their own at home.
Inpatient short term rehab programs are a more intensive form of rehabilitative treatment. Patients check into a rehab facility for a short stay. They are evaluated by a multidisciplinary team of rehabilitation specialists to determine their individual rehabilitative needs, and a comprehensive treatment plan is formulated to meet those needs. Patients receive a minimum of three hours of therapy daily, which may include physical, occupational, speech, recreational and nutritional therapies, among other options, along with 24-hour medical monitoring, management and care.
Current stroke rehabilitation guidelines
Evidence-based guidelines outlining best clinical practices for the rehabilitative care of adults recovering from stroke were released by the American Heart Association/American Stroke Association in June 2016.
According to those guidelines, stroke survivors benefit most from rehabilitative care provided by a large, multidisciplinary team, which should include the patient and their family, friends and caregivers, along with physicians, nurses, physical and occupational therapists, speech-language pathologists, recreation therapists, psychologists, nutritionists, social workers, and others. Effective coordination and communication between all of these team members are paramount in maximizing the effectiveness and efficiency of rehabilitation.
Additionally, the guidelines state that patients who perform more than three hours of therapy daily have been shown to make significantly more functional gains than those who spend less than three hours per day in therapy. Given these facts, these organizations recommend inpatient short term rehab as the ideal environment for stroke recovery and rehabilitation.
What that boils down to in terms of choosing between inpatient and outpatient rehabilitation options is that, according to today's best clinical evidence, those who have been left with some level of disability after stroke are most likely to benefit most from an inpatient short term rehab setting, provided they are physically able to participate in the intensive therapeutic interventions these programs provide. Other options may be suitable for individuals who require a lighter rehabilitation routine due to specific health concerns, or who have been very mildly affected by stroke and can, therefore, be effectively rehabilitated in a less intensive care setting.