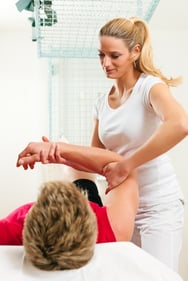 Since rehabilitation therapy plays a vital role in recovery, patients who are in the process of planning for joint replacement surgery are sure to encounter a lot of information about the various rehab options available to them. Short term rehab is one of those options. So what, exactly, is short term rehab? Here we'll discuss short term rehabilitation programs and what patients can expect from them after joint replacement surgery.
About Short Term Rehab
Short term rehabilitation programs aid joint replacement patients in making the most effective recovery from surgery. Using a multidisciplinary approach to care, these programs offer individually designed treatment plans that combine specialized rehabilitation techniques and therapies to manage pain, restore strength and mobility, and educate patients on joint protection, with the end goal of restoring patients to optimal levels of function and independence.
Short term rehab is defined by Medicare and many private health insurance policies as sub-acute rehabilitative care that lasts between 3 and 100 days. Short term rehabilitation programs are recommended for the vast majority of joint replacement patients, and the average patient stay in these programs is about 4 weeks.
What Patients Can Expect
Patients who use short term inpatient rehabilitation services can expect to be evaluated and treated by a team of rehabilitation specialists, which typically includes physicians, physical and occupational therapists, rehabilitation nurses, counselors, social workers, and case managers. Other specialists may be included on an as-needed basis. Treatment plans are formulated to meet the individual needs of each patient and are carefully coordinated to promote a return to mobility and independence. These are generally very intense programs, with patients receiving a minimum of 3 hours per day of therapy to ensure that they are able to return to their lives in the shortest possible time.
Choosing Your Short Term Rehab Program
Short term rehabilitation programs are offered in a variety of health care venues, including dedicated rehab units in hospitals, specialized rehabilitation facilities, and skilled nursing centers. The best program for you will be one that has a great deal of experience rehabilitating joint replacement patients in general, as well as patients who have had your specific type of surgery. Look for a program that has earned a great reputation in terms of quality of care and services. Your healthcare team is the best source of information on quality care in your area, so ask for recommendations from all members of that team as you plan your procedure and recovery.