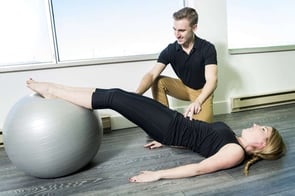 Hip replacement procedures have improved the mobility, pain relief, and quality of life for millions of people over the past few decades. In fact, joint replacement surgery is considered one of the most successful orthopedic procedures done today. However, if you will be having this surgery, you should know that proper care and therapy after hip replacement is as critical to the short- and long-term success of these surgeries as the procedures themselves are, helping patients maximize the benefits of joint replacement and minimize risk of post-surgery complications.
For this reason, short term rehab is an option that is typically recommended for hip replacement patients after surgery. Here, we''ll outline 2 important reasons why taking advantage of that option really matters in terms of ensuring your highest level of recovery and rehabilitation.
Because Solid Aftercare Helps Prevent Complications And Setbacks
Joint replacement surgery, while fairly routine for surgeons today, isn't routine for the patients who undergo these procedures. These are serious surgeries, and while they typically prove very beneficial to patients once recovery and rehabilitation are complete, getting to that point isn't easy. Good, solid care after surgery is essential to that process. Managing that care reliably on your own, even with the assistance of family, friends, or visiting nurses, is a rather complex undertaking, one that proves overwhelming for many patients as they deal with the physical and emotional aftermath of a major surgical procedure.
Short term rehab programs offer patients a high level of support and guidance in managing the seemingly endless details of recovering from joint replacement. By checking into an inpatient rehab program, you place those details in the capable, experienced hands of rehabilitation specialists, including physicians, nurses, therapists, nutritionists, and case managers. They will work to ensure that details like medications, wound care, and nutrition are handled efficiently. They will provide assistance with difficult tasks, such as getting in and out of those compression stockings you'll need to wear during those early days after surgery, for instance, and learning to manage bathing, dressing, and many other daily activities without placing your new hip at risk. They will monitor progress of the healing process and keep careful watch for any signs of post-surgical complications, such as wound infection or blood clots, among many other important services. By taking advantage of these services, you can greatly reduce your risk of encountering difficulties and complications that could slow or impair your recovery.
Because Intensive Physical Therapy, Supervised By Rehabilitative Specialists, Speeds Recovery
Making use of a short term rehab program—rather than outpatient or home-based therapy—after joint replacement surgery can help speed up your progress as you work to improve the strength and function of your new joint. That's because a good inpatient program offers a number of important advantages over other rehabilitation options. Among the most notable of these are highly-personalized, tightly-coordinated and comprehensive rehabilitative treatment plans devised by a team of rehabilitation specialists and a more intensive therapy schedule—a minimum of 3 hours daily as opposed to the two to three weekly sessions typical of outpatient programs.
The inpatient setting of a short term rehab program also offers greater access to a wider range of rehabilitation equipment and facilities, as well as greater safety as you take advantage of those resources since you will have the support and supervision of staff as you work towards your rehabilitation goals.
Faster rehabilitation progress means achieving your end goals of more mobility and less pain more quickly—shortening the time you'll spend getting back on your feet and back to your life.