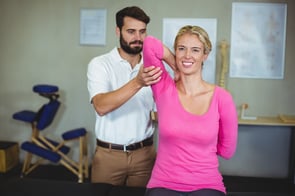 Orthopedic rehabilitation is designed for people who are living with disabling limitations—either temporary or permanent—due to orthopedic surgeries, musculoskeletal injuries, bone fracture or trauma, or degenerative joint diseases. Its purpose is to aid these people in regaining function and mobility lost to these medical issues. If such a program has been recommended for you, here are some of the ways it can work to help you feel and function better, getting you back into shape and back to your life.
How Orthopedic Rehabilitation Works
Intensive, inpatient orthopedic rehab programs employ physician-led, multidisciplinary teams of rehabilitative specialists to work with patients in devising and implementing personalized treatment plans. The primary goals of these treatment plans are to maximize each patient's functional ability, mobility, independence and quality of life. Components of treatment may include physical therapy, occupational therapy, pain management, nutritional counseling and patient education, among other services, and each patient is assigned a case manager to ensure that the care process is smooth, efficient and well-coordinated.
How It Can Help
If you have had orthopedic surgery, joint replacement or fracture repair, for instance, or have suffered an acute or chronic musculoskeletal injury, orthopedic rehabilitation can help ensure an optimal recovery. Rehabilitative specialists will work to help you strengthen affected muscles, increase flexibility and function in affected joints, improve balance and gait, reduce pain, and address any other issues that may impede progress towards regaining mobility and independence. This personalized, multidisciplinary approach to rehabilitation works to promote faster, more complete recovery and rehabilitation than patients typically experience on their own, helping them get back on their feet and back to their lives as quickly, safely and successfully as possible.
Orthopedic rehabilitation works to improve the daily lives of people who suffer from degenerative joint diseases—osteoarthritis or rheumatoid arthritis, for instance. With a personalized assessment and treatment plan, rehabilitation physicians and therapists can help patients strengthen muscles surrounding affected joints to increase joint stability, flexibility and function and reduce stiffness and pain. Patients are taught techniques for joint protection, which can help slow progression of joint damage, and effective methods for controlling joint pain and inflammation. Therapists can also provide patients with adaptive equipment and education to make daily life easier, and nutritional counselors can help them adapt their diet to aid in reducing inflammation and supporting overall strength, health and well-being.
So here's the bottom line: If your healthcare team feels that you would benefit from orthopedic rehabilitation, taking advantage of the opportunity a referral to rehab provides is wise. Not only can a good orthopedic rehab program offer short-term benefits, helping you feel and function better and get back to your life, but it can give you the skills and knowledge you need to stay active and healthy over the long run as well, ensuring that you can live your life to the fullest for years to come.