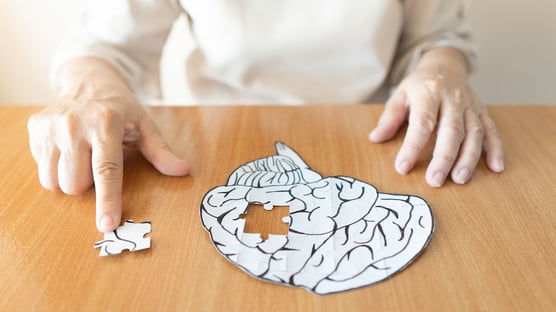 Memory care is a form of residential long-term care that provides intensive, specialized care for people with memory issues. Specialized caregivers offer guidance, support, and daily supervision to patients who need dementia care services. Working together to design activities that boost cognitive functioning, caregivers can help reduce agitation, confusion, and related health issues for dementia and Alzheimer's patients at any stage of the disease.
Memory care services aim to enhance the quality of life and provide a well-structured environment that helps minimize stress for Alzheimer's and dementia patients. Memory care living facilities offer a structured atmosphere conducive to routines that enhance the patient's ability to navigate the challenges of memory loss.
Download our ebook to learn the most important factors when considering memory care services for your loved one with Alzheimer's or dementia.
What Symptoms Do Memory Care Activities Address?
Staff at memory care living homes are specially trained in how to treat dementia and care for Alzheimer's patients.
While memory care programs cannot help with dementia or Alzheimer's disease prevention, they can help mitigate the impact of disease symptoms — with the right activities and programming.
Some of the dementia and Alzheimer's disease symptoms that can be targeted with memory care programming include:
Memory loss
Challenges with solving problems and general planning
Difficulty completing familiar tasks
Confusion with place and time
Having trouble writing or speaking
Poor or decreased judgment 
Structuring the Memory Care Environment
Memory care homes prioritize providing a friendly environment where patients interact with their peers while keeping patients safe. As such, some memory care amenities may include game rooms, resident gardens, fitness centers, and therapeutic whirlpools. The physical environment is designed to foster both socialization and safe living.
These facilities may have short corridors offering few decision points for residents to recognize the layout and feel certain of their environment. Often, labeled rooms are essential to help patients easily navigate the premises. 
Alzheimer's and dementia patients are prone to wander frequently and experience accidents, so they need an environment featuring heightened safety protocols.  Security features, such as video surveillance and security alarms on exterior and interior doors, help caretakers monitor patients. In addition, memory care employees will secure potential poisonous items and cooking appliances that pose harm if within the reach of patients.
Designing Memory Care Activities
A dementia care plan requires a personalized approach. Assessing an individual's capabilities helps caregivers allow the patient to access the activities that can help most while having a comfortable stay in a memory care home. The process usually entails determining background information and what the resident likes and dislikes.  
When developing a care plan, caregivers will often write the document in the first person and address some or all the following: 
Activities they like and dislike
Cognitive ability
Friends, family, and community engagement
Spirituality
Sensory impairment
Drinking and eating preferences
Physical health
Personality 
Caregivers can also tailor memory care services by considering nutrition and exercise needs. While each service may be individualized, effective memory care programs follow similar guidelines.
Dementia Care Services: Five Guiding Principles
It's important to understand that every type of memory activity counts. Services typically include speech or art therapy, memory games, in-house worship services, pet therapy, and more. However, activities don't always fit neatly into scheduled hourly intervals throughout the day.
There are numerous simple activities like making the bed, tidying up the room, and watering plants a patient can attempt to help with memory care. These everyday activities can get residents who might not be interested in group activities engaged with a task that can promote cognitive function. 
Most experts agree that a few guidelines should drive the design of all memory care services.
Embrace Simplicity - It's best to simplify a patient's schedule, approach, and routine. Taking this approach doesn't mean they neglect tasks, but instead they eliminate the nonessential ones to concentrate on building purposeful connections and meaningful interactions.  
Engage Residents – Engagement can happen outside of an activity. For instance, casual conversations can be very stimulating for patients with cognitive needs.
Conduct Research – It's key to understanding a patient's history. Talking to friends and family members can be invaluable when designing memory care services.
Involve Peer Mentors - Most patients in memory care facilities are in one of the seven stages of dementia at any given time. When conducting a group activity, caregivers should combine patients in their early stages with those in further stages of the disease. However, ensure that the personalities of these patients complement each other to eliminate unnecessary tension and conflict. Pairing patients with different capacities improves engagement and empowers both the mentee and the mentor. 
Get creative with activities - Pet and music therapy are practical ways of getting people to open up and communicate. These dementia care services are especially effective for patients who rarely talk, smile, or engage with other residents. 
Memory Care Services at Rehab Select
At Rehab Select, we tailor our memory care activities to the individual patient. Our caregivers provide Alzheimer's and dementia patients with healthy and engaging activities in a safe, predictable, and well-structured environment. If you're wondering, "where can I find the best memory care facilities near me," we invite you to visit one of our locations in Alabama. Schedule a tour to learn more about our memory care services and amenities.