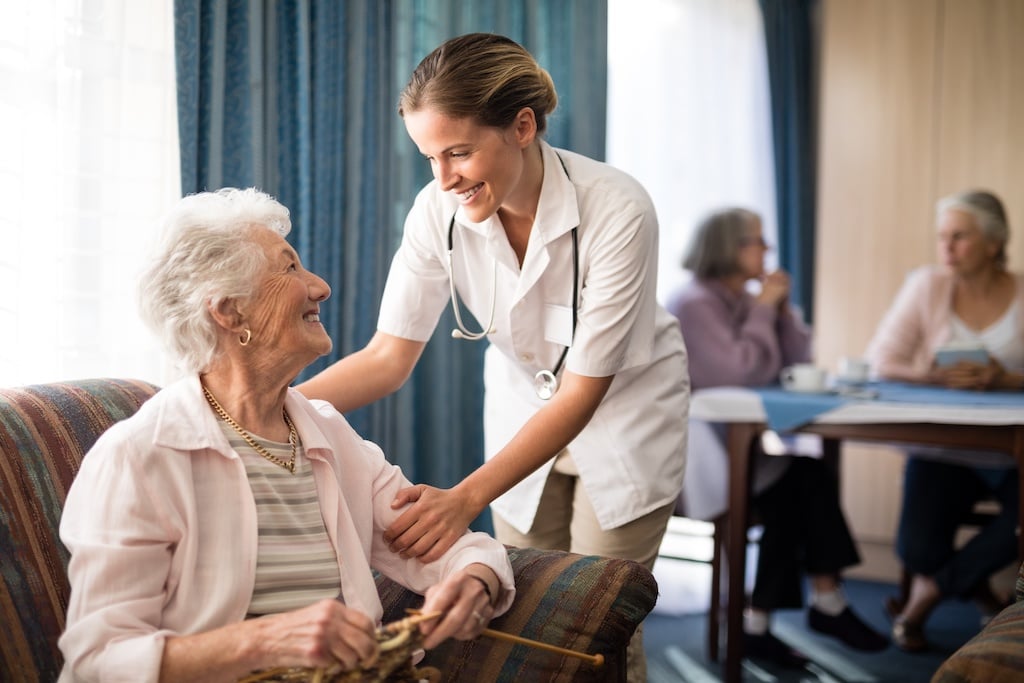 "More than 50 percent of residents in assisted living and nursing homes have some form of dementia or cognitive impairment, and that number is increasing every day," according to the Alzheimer's Association.
Download our ebook to learn the most important factors when considering memory care services for your loved one with Alzheimer's or dementia.
With the numbers of dementia patients on the rise, many long-term care facilities have implemented specialized memory care services designed to address the unique needs of Alzheimer's and dementia patients. Specially trained caregivers are employed to provide day-to-day supervision, guidance, and support in a safe, highly structured setting.
When memory care is provided in a long-term care facility, it can be very effective at lowering stress for dementia patients and helping them realize a better quality of life. However, not all memory programs are created equally, and widely different standards exist.
Here are five things you may not have heard about memory care to help you choose the right long-term care environment for your loved one.
1. Memory care addresses more than just memory problems.
Dementia is not only about memory loss. Therefore, memory care programs that address a range of functional deficits are most effective. Dementia patients not only experience forgetfulness, but they often exhibit changes in the way they think, speak, perceive things, feel and behave. It's important to ensure that memory care services incorporate chances for patients to practice improving daily living skills and to work with speech therapists and counselors to improve cognitive and speech functions. Some assisted living facilities in Alabama take this holistic approach to treatment.
2. Effective security for memory care patients goes beyond providing a safe physical environment.
Because dementia patients are prone to wander and put themselves in harm's way, long-term care facilities often incorporate extra security features, such as secured perimeters, alarm systems, video surveillance, in-room monitoring, and fully enclosed outdoor areas with walking paths to give patients safe outdoor exposure.
However, security for memory care patients must go further than ensuring patients cannot leave unattended. It's important to determine why a patient may be prone to wander so that caregivers can address the root cause. For instance, wandering may occur as a result of an unmet need for social interaction or friendship or as a reaction to a noisy environment, distress, boredom, or other causes. A well-designed memory care program makes sure that every aspect that affects safety is investigated.
3. The design of a memory care facility is more important than you think.
Dementia patients can become easily overwhelmed. Engineering and design firms now recognize that large spaces can create confusion and distraction when faced with a spacious and loud environment. Because some dementia patients can function better in quiet, smaller spaces, long-term care facilities should provide options for various group sizes and more intimate settings. These cozy spaces give caregivers the opportunity to control noise and visual stimulation in order to minimize overstimulation and reduce stress.
Another important aspect of a facility's design is how easy it is to navigate. Dementia patients feel much less anxiety when they are familiar with their surroundings. So, the design should include an intuitive building layout, visual cues for directions, and distinctive landmarks. Training patients to recognize visual markers can go a long way toward alleviating stress
4. Nutritional care for memory care patients requires special planning.
Dementia frequently leads to nutrition problems. At first, memory issues can create difficulty simply shopping for groceries or following recipes. But as dementia gets worse, it can result in missed meals, erratic eating patterns, and, eventually, an inability to consume food independently. Sometimes patients cannot remember how to use utensils or don't recognize the food on their plate. Memory programs that can reinforce mealtime engagement have a better chance of staving off some of these problems.
Families and healthcare providers should look for a memory care facility where staff engage the patients during meals by observing that they eat enough food and that the selections are nutritious. During an initial tour of a memory care facility, notice how the staff take care of their patients at mealtimes and if they provide activities that make feeding time interesting and less intimidating. Simple accommodations can be provided to ease the stress of dining; for example, using smaller plates or offering small meals more frequently.
5. Memory care programs can be strengthened by family involvement.
Family involvement is not just nice to have—it's essential. In the initial stages of admitting your loved one to a dementia care facility, an individualized care plan should be developed with family input. Often families can provide invaluable information that helps caregivers understand more about the patient at the beginning of their stay.
But what about afterward? One survey found that 42% of people believe that there is no point in maintaining contact with a family member who has late-stage dementia. However, this is a false assumption. Family involvement goes a long way in enhancing quality of life. Even without intact memory, patients still have emotional memory, remembering how an event has made them feel after forgetting the details of the event.
Memory care programs can host families at dinners, arts and crafts events, or therapy sessions. When residents can build stronger connections with their loved ones, they build up their "bank account" of positive experiences.
A caveat: One study suggests that there may be an optimum level of family contact: no more than ten visits per month or 7 hours per week.
How to Treat Dementia: How Memory Care Helps
The kinds of safe, supervised social activities provided in memory care are a great way of enhancing the quality of life of a person living with dementia. Indoor and outdoor socialization helps improve the quality of life for people living with memory conditions and reduces their feeling of loneliness.
When residents participate in indoor activities like listening to music, arts and crafts, and board games, they gain valuable social opportunities that can help offset anxiety and establish positive habits. Set routines lower stress for people with Alzheimer's or dementia. The staff support provided by trained memory care professionals helps to ensure residents are getting to meals, coming to activities and moving on to the next thing.
Memory Care at Assisted Living Facilities in Alabama
For many families, it can be hard to determine the right time to place a loved one in assisted living facilities in Alabama. At Rehab Select, we offer long-term healthcare solutions for patients struggling with memory loss. Our long-term care offers intensive, specialized care for people with cognitive conditions in a safe and secure environment.
We understand that it's a hard decision to make, and we're ready to help answer your questions about how to treat dementia. If you're looking for a memory care facility in Birmingham, AL, contact our professional caregivers to schedule a tour of Rehab Select.