This is the last installment of a four-part series exploring how to navigate the complex landscape of Medicaid eligibility with success.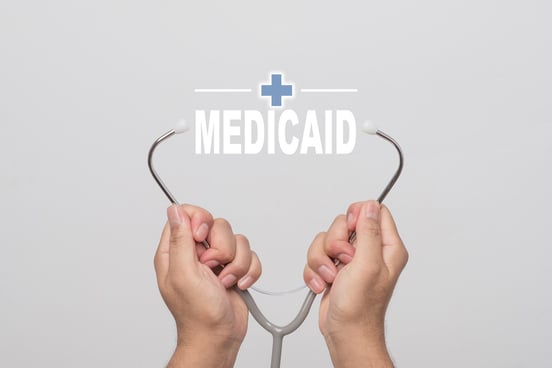 Preparing to help your loved one to transition to a nursing home is a time-sensitive process. Getting admitted to the facility and securing Medicaid coverage both happen on a timeline. Since Medicaid applications require you to have the entire application submitted and approved within 45 days, you need to be ready to support your application without much delay.
With regular work and commitments already filling up your schedule, handling the Medicaid application in your downtime may seem like an uphill battle. Rehab Select's resident Medicaid expert Karen Golson shares her top strategies for meeting Medicaid timelines. Application success relies on being proactive—follow Karen's tips for a smooth experience.
Visit the Medicaid website as a resource

.

This step takes some time but is worth it.

One of the first things you should do is spend some time on the Medicaid website. Not only will you find the actual application form,

but you

can also read up on the basic eligibility criteria and the administrative code that governs Medicaid so

that

you can minimize surprises as you complete the application process.

Contact the Medicaid agency.

Going straight to the source is the best way to obtain the most accurate and up-to-date information on questions related to Medicaid. Although nursing homes

and long-term care facilities

may have staff who have a running knowledge of Medicaid available to assist you, their level of expertise varies widely. Alabama Medicaid has a central office in Montgomery and 11 District offices in the state that each serve multiple counties. Find the District office that covers your place of residence and make a call

or schedule an appointment

.

Have an idea of what you want to ask.

The only bad question is the one you don't ask.

Before you contact the Medicaid agency, you should have a general idea of what you want to ask. One question tends to lead to another. Don't be afraid to ask any question that's on your mind and to ask as many questions as you need.

Pay attention to timeframes.

Understand that t

he

Medicaid

application is paper driven

, making time

constraints

even more tight

.

The Medicaid application is not processed online

—e

verything comes in writing, even the request for information. Since you only have a few days to follow up a request for information, you should check your mail often to make sure you receive all the communications in a timely manner. Neglecting to open your mail for a few days could result in missing a deadline for supplementary materials that support your application.

Read the fine print.

Did you know that

7

out of

10 applications get denied due to failure to get information

?

Make sure you read

all communications from Medicaid immediately and ma

ke

every effort to present

the information requested during the application process.

It seems obvious, but diligence pays off.

Don't approach the

Medicaid

application like it's

a witch hunt.

You may be relieved to know that Medicaid is not looking for a way to make someone ineligible. They simply look at the obtain they have about your application to see if it meets the eligibility criteria. If you have not been deemed eligible, you'll receive an explanation sent in writing.

Realize that

time can be your friend or your enemy.

Successful applicants always l

ook at the

ir

application in advance.

Do your due diligence

.

When it comes to the Medicaid application process, knowledge is power.

Read

your rights and responsibilities as a Medicaid recipient.

Ensure

Someone in

your

family

has

power of attorney in case of an emergency.

Certain documents you'll need to submit require power of attorney to access. The lien Medicaid will place on the recipient's properties will also require the signature of client or someone who has power of attorney or conservator.

Find out if your loved one has unknown assets.

Medicaid will ask for documentation of all assets of the client. Their children or relatives may not

have adequate information about them — and in many cases, they may not

know anything about

them at all

. Research

ahead of time to

do what's necessary to obtain

proper

documentation

of assets

.

Being proactive is

ultimately your

responsibility and

will make the process much smoother

if a caseworker requests

this documentation

.

Know that re-applications are allowed

. This is the good news. If for some reason, you or your loved one is not approved, you can reapply for Medicaid anytime—whether that is in a month, week, or day. Also, if you want to address something on a denied application, you can do so in another application.

Find the right family member to handle the Medicaid application.

There will usually be a period of

back-and-forth

communication during the application process.

Consider these questions:

Which

family member

will more readily

be

available to handle that? Which

one

has the most information about the client's situation? These are all key considerations when deciding on the family member who will be primarily responsible for the Medicaid application.

Sometimes this is purely a geographical decision.

For example, the family may want to designate the child that lives closest to

their

mom to take care of

her

paperwork rather than

the out

-

of

-

state

sibling

, simply

because the closer child will have easier access to the documents.

Don't

necessarily

accept

any decision by Medicaid

as

fact

. Humans overlook things and make mistakes. If there is a

decision

you're doubtful about, ask Medicaid to explain why. You also have the right to a hearing if you disagree with

Medicaid action.

You have the right to appeal it in an Alabama state court.
Applying for Medicaid is neither simple nor straightforward. The entire application procedure is still a paper process, which requires several communications between the agency and the applicant. With decisions about which family member responsibilities and financial statements and assets that need to be uncovered and documented, you might find the process daunting. Using the strategies and tips here will definitely help to facilitate a better outcome. If you'd like additional support in the application process, we can help.
To learn more about how Rehab Select's resident Medicaid expert can show you how to sort out the details, contact us here. Navigating Medicaid eligibility doesn't have to be overwhelming — let us guide you through the steps.