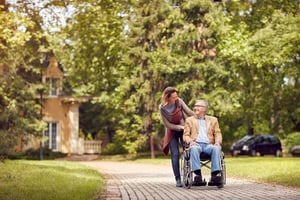 If you are facing a serious health challenge that has led to a hospital stay, chances are good that your chief goal is to get back in shape and back to your normal life – and your own home – as quickly as possible. But what if you aren't quite ready or able to step back into your life? Maybe you need a bit more recovery time and some rehabilitation therapy before you can manage on your own at home. Is short term rehab the best way home?
In many cases, short term rehab can indeed be the best way home. Here are some examples of when that may be so:
If you have had a stroke – The American Stroke Association recommends inpatient short term rehab as the optimal environment for recovery and rehabilitation after stroke. This recommendation is based, according to the association, on clinical evidence that shows that stroke survivors make the best functional gains when they receive comprehensive, intensive and well-coordinated rehabilitative care from a multidisciplinary team of rehabilitation professionals, a standard of care that is best met in an inpatient rehab environment.

When you have suffered a heart attack or had cardiac surgery – People who have experienced a cardiac event or surgery often need close medical monitoring and specialized care as they recover and rehabilitate. A good inpatient short term rehab program is well-equipped to meet those needs to help ensure an optimal recovery environment.

If you have had joint replacement – Research has shown that both hip and knee replacement patients fare better in terms of restored function and speed of recovery when provided with intensive rehabilitative therapy, as is provided in the inpatient short term rehab setting.

When you need 24 hour medical or nursing care – If you need more care than can be provided in your doctor's office or at home upon hospital discharge, an inpatient short term rehab facility can offer a higher level of care to bridge that gap. This can be the case when complex wound care or pain management needs are an issue, or when chronic health conditions, like cardiovascular disease or diabetes, increase complication risk during recovery and rehabilitation, among other circumstances that can make around the clock care and/or supervision necessary to a safe and effective recovery.

When managing at home alone is unsafe or impractical – If you will have trouble with issues like getting around in your home, managing self-care and medications, handling personal care tasks, such as bathing and dressing, or keeping up with and/or getting to medical and therapy appointments during your recovery, a stay in short term rehab might be your best bet. Going to rehab before returning home can help ensure that your needs are safely and efficiently met until you've made enough recovery progress to do so on your own.
Checking into another inpatient facility for rehab may seem rather like taking the scenic route. However, in these scenarios and many others, a short-term rehab program can actually speed your recovery, reducing the time it takes to regain your health, well-being, confidence and independence after a serious medical incident. That means that while it might delay your return home by a week or longer, when you do get there, you'll likely be much more able to settle back into your normal routine. Isn't that the very essence of feeling truly at home?