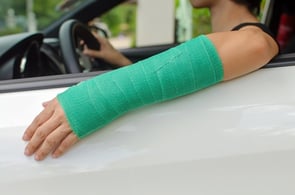 Car accident injuries can be life-altering. As a person starts to rebuild their normal life after a car accident, injuries can require ongoing medical care and adjustments in day-to-day life. For many people struggling with car accident injuries, rehabilitation is an important part of the recovery process. Going to short term rehab helps improve recovery outcomes after car accident injuries so that individuals can get back on their feet more quickly.
The Importance of Rehab After a Car Accident
Injuries are often more serious than they seem
For people who are in car accidents and walk away without serious broken bones or cuts, the temptation is to assume that they got lucky and do not need further treatment. However, rehab is still essential. Many of the injuries that occur during a car accident can be invisible. Internal, soft tissue injuries can come back to plague the individual long after the accident is over and the superficial cuts and bruises have healed. Whiplash can lead to migraines and dizziness without proper treatment. Even a small fender bender can impact the neck, back, and soft tissues of the body. Rehab can help locate and treat these hidden injuries.


Rehab provides personalized treatment
Rehab is different from other methods of treating car accident injuries because it creates a custom treatment plan for the individual and their specific injuries. Rehab facilities can pull from a variety of practice areas, including physical therapy, chiropractic care, and massage therapy, to assist the individual in achieving full body healing. This allows rehab from car accident injuries to be personalized to each individual patient, which improves overall outcomes.
Regardless of the treatments used, the goal of rehab from car accident injuries is to improve the function and mobility of the affected muscles, joints, and ligaments so that the patient can return to normal activities enjoyed prior to the car accident. This may require strengthening of injured areas, stretching, treatment for inflammation, and treatment to re-align the injured areas.
Car accident injuries are not something to take lightly. Rehab from car accident injures can be the key to a full recovery. Whether an accident was seemingly serious or minor, victims should consider making an appointment with a qualified rehab facility to determine the extent of their injuries and the best possible plan to achieve full recovery.