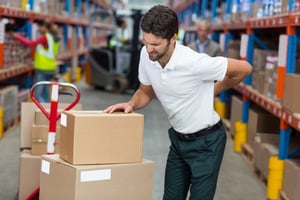 Workplace injuries are sadly common, often devastating, and potentially fatal. The National Safety Council estimates that a worker is injured on the job every 7 seconds.
In 2016 alone, more than 2.9 million private industry workers in the U.S. suffered an injury at work that resulted in days off. Dangerous occupations include transportation, manufacturing, and construction, as well as service professions like firefighting and police work.
The most common injuries are overexertion (such as repetitive strain injuries, or lifting or lowering more weight than you can safely manage), being struck by or trapped under equipment or constructions, as well as slips, trips, and falls. However, workplace injuries are rife and can affect workers in any industry, at any time.
If you, or a loved one, are one of the many people injured at work, you may be wondering how to best manage your recovery. The first point of call should be your employer's workers' compensation program, which should include both compensation for your treatment and a Return To Work program to help you get back into the swing of things at your workplace.
Work Injury Rehab Challenges
However, there can be a number of challenges that you'll need to overcome in your recovery from a workplace injury:
Trauma and other mental health issues
Suffering from mental health issues as a result of a workplace injury can be very common. The ensuing anxiety may make it difficult for you to return to your former role. This can be the case particularly if you have suffered from a severe disability as the result of the injury.
Challenges of the workplace environment
Depending on the nature of your work, it may be hard for your employer to make appropriate accommodations for your injury while you recover. You should be able to request reasonable accommodations in your workplace after an injury – such as being allowed to sit instead of stand to operate machinery, or moving to a desk nearer the photocopier. However, if your former work was very physically demanding, required manual dexterity or long periods of time on your feet, you may face a longer journey to return to work.
Severity of the injury
If your injury is severe – such as a limb amputation - your rehabilitation journey may be longer and more complex. You may need treatment to deal with your wound, physical therapy to assist with a return to mobility, occupational therapy to help you tackle day-to-day tasks, and potentially also counseling and other support to help you deal with the new challenges you face. This can be tough, and requires a fully-equipped rehab team and a fully-customized rehab program.
Recovering From a Workplace Injury
If you've suffered from a severe workplace injury and hope to get back to work - and your normal life - as quickly as possible, an inpatient rehab program can be an excellent solution. In an inpatient program, you stay overnight in a treatment facility for a certain period of time, either from a few days to weeks, or even months, depending on your injury and rehabilitation needs.
An outpatient program, by contrast, involves staying in your own home and attending a series of treatment sessions with rehab specialists on a regular basis.
An inpatient program could be a preferable solution if:
Your workplace injury is very severe or complex
You have chronic health conditions that could complicate your recovery
You live alone and feel that you might struggle to look after yourself at home
You urgently need to return to work and would prefer a more intensive rehab treatment
On the other hand, if your injury is not severe or if it's complicated for you to be away from home for any stretch of time, you may only need outpatient rehab treatment.
Types of Workplace Therapy
If you do decide to opt for an inpatient rehab therapy program, the first stage will be a full evaluation of the nature of your injury. Your rehab team will then design a program for you which takes into account the different aspects of therapy you require. Depending on your injury, this might include physical therapy, vocational therapy, occupational therapy, and counseling.
Physical Therapy
Physical therapy aims to restore your physical function after an injury. This usually involves a series of guided exercises. Physical therapy can help restore your normal range of motion, reduce pain, restore strength, flexibility and agility, speed up your return to work, and also reduce the risk of re-injuring yourself.
Vocational Rehab
Vocational rehab is a program designed to enable injured workers to re-enter the workforce. This might include assessing a workplace to advise on accommodations you'll need to go back to work, offering you training to adapt to your new physical reality, or, in the case of an injury so severe that you can't return to your former occupation, helping you to find new employment.
Wound Care
If you've suffered a serious wound at work - such as an amputation or other non-healing wound - then your inpatient program may need to include specialist wound care treatment. For example, your rehab treatment might include wound VAC (vacuum-assisted wound closure) or hyperbaric oxygen therapy (lying in a hyperbaric chamber to increase the oxygenation of the blood).
Orthopedic Post-Surgery Rehab
If you've undergone orthopedic surgery after a workplace injury (such as a fracture repair, amputation, or back injury repair), you may also need post-surgery rehab treatment from orthopedic surgery specialists. Recovering from orthopedic surgery can be grueling, and your rehab team can provide you with the necessary information, guidance, and motivation to recuperate more quickly and with less pain.
If you'd like advice on workplace injury rehabilitation treatment from one of the specialists at Rehab Select, click here to send us a message and we'll get back to you within 24 hours.