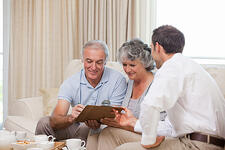 Seniors who are enrolled in Medicare Parts A and B will find that there are medical costs that are not covered by these plans and must be paid out of pocket.
MediGap insurance is designed to cover the gap between the amount charged for medical care and what Medicare will pay. Since that gap can add up to thousands of dollars per year in many cases, seniors who have chosen not to enroll in a Medicare Advantage plan or are not pleased with their Medicare Advantage plan can benefit substantially from a MediGap plan.
About MediGap Insurance
MediGap insurance is a Medicare supplement policy, sold by private insurance companies, that can help pay some costs that Medicare Parts A and B does not cover, such as coinsurance, co-payments and deductibles. Some plans also offer coverage for services that are not covered by Parts A and B, emergency medical care outside of the United States for Medicare enrolled travelers, for instance.
MediGap plans are available in ten standardized policy options, which means that benefits are the same from one insurance company to another. However, prices are not standardized, so costs for the exact same coverage vary between different insurers. Premiums for these plans vary according to the option you choose and can range from as little as about $50 per month to as much as several hundred dollars.
Who Can Benefit?
Seniors who have no supplemental coverage, leaving them with substantial out-of-pocket expenses, can benefit from MediGap plans, as can those who find that the managed care model of Medicare Advantage – your other option for covering many of those out-of-pocket costs – is not a good fit for their lifestyle and/or medical needs. Unlike Medicare Advantage plans, MediGap insurance is not managed care, but a fee-for-service plan. That means that there will not be the same sort of limitations that are common to managed care plans, such as a specific list of doctors, specialists and hospitals that you can use for your care.
Important Considerations For Supplemental Coverage
While some Medicare Advantage plans offer prescription coverage, MediGap policies are no longer allowed, a restriction that came into effect with the advent of Medicare Part D. That means you will have to enroll in Part D separately to have your medications covered, which involves paying a separate premium. Additionally, MediGap policies only provide coverage for one person, so if you need coverage for a spouse as well, you will have to buy another policy. While MediGap may still be your most cost-effective option, it is important to take these things into account as you evaluate which supplemental option is best for you.