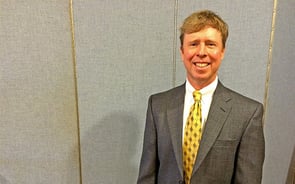 Chris Schmidt, co-owner of Rehab Select's parent company – Schmidt Wallace Healthcare Management Company – was elected by his peers last week to serve on the Executive Board of the Alabama Nursing Home Association (ANHA) as the Region 2 Director.
"It's a special privilege when your peers elect you to represent them and to carry forward the important work that we do across the state and in Montgomery," Schmidt said after the election.
Schmidt is proud of the accomplishments of the Alabama healthcare industry regarding quality outcomes and measures, and he aims to be a part of the continued growth of this success in this new role.
"I wanted the opportunity to try to pull people together to help us succeed in the new landscape of health care given the new payment systems and methods," Schmidt shared.
Schmidt earned a Masters in Business Administration from Auburn University Montgomery and a Bachelors of Science in Marketing from Auburn University. He earned a nursing home administrator license in 1990 and became a Certified Nursing Assistant in 1991. He continues to maintain both credentials. He has two sons, Brannon and Mason, and co-owns Schmidt Wallace Healthcare with his mother, Patti Wallace.
About the ANHA Executive Board
The ANHA Executive Board sets the association's strategic goals and represents the nursing home profession at various events, government committees, and community groups. Regional Directors hold regular meetings with nursing homes in their respective areas to provide information on association activities and receive feedback from the membership.