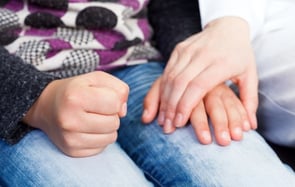 Caring for a family member or friend who has become disabled due to illness or injury is often a very rewarding experience. However, stepping into the role of caregiver for a loved one isn't easy. It takes a lot of time, hard work, and patience, and no matter how dedicated you are, it can become overwhelming at times. Caregiver depression often becomes an issue under these circumstances, so it is very important to be aware of this common form of depression and how to reduce your risk of suffering its symptoms.
What is Caregiver Depression?
Caregiver depression is a condition caused by too much long-term stress. It occurs when a person caring for a loved one feels worn out and overwhelmed by the day-to-day physical and emotional demands involved with that care.
Unlike a professional caregiver, a family caregiver has a personal relationship with his or her "patient" – in many cases, a lifelong one – and the changes that dependency and caregiving causes in that relationship can be hard to manage. Additionally, for the family caregiver, there is no clear boundary between caregiving and the rest of life – no leaving it all behind after an 8 hour shift. Then there are the rest of life's responsibilities to fit in – home, spouse, children, and perhaps a paying job.
It is this sort of scenario that can lead to caregiver depression. This form of depression can make an already difficult and stressful situation even more so, taking a harsh toll on your physical and emotional health. Its symptoms can also affect your ability to care for your loved one, which can, in turn, affect their physical and emotional health as well.
Most Common Symptoms
Feeling unusually irritable; becoming easily agitated or frustrated
Feelings of guilt, resentment, worthlessness, or hopelessness
Having thoughts of death or suicide
Sleep disturbances
Chronic fatigue
Loss of interest or enjoyment in usual activities or hobbies
Poor concentration, fuzzy thinking
Appetite and/or weight changes
Health issues that do not respond to treatment, such as frequent headaches, body aches, and/or digestive problems
If you have noticed any combination of these symptoms, see your doctor. Depression can be treated, and getting the help you need is essential to ensuring your health and well-being and your ability to provide proper care for your loved one.
How to Reduce Your Risk
Recognizing that the stress you're under every day can lead to caregiver depression is the first step towards reducing your risk. Your second step is to take action to reduce that stress. Perhaps the most important step in doing that is asking for help, rather than going it alone. If no family members or friends can help, look into community services, respite care, or professional care services in order to provide yourself with a day or two off every week to take care of yourself.
That means using that time for you – not everything else on your to-do list. Get out with friends, join a caregiver support group, take a yoga class, read a book, or take a long bath – whatever you enjoy and can help you de-stress. Make sure you take the time to eat well, exercise and take care of your own health needs. While you, like many caregivers, may feel that taking time out for you is selfish, it isn't really. In fact, it is absolutely essential to take care of your own needs in order to remain capable of taking care of those who depend on you.