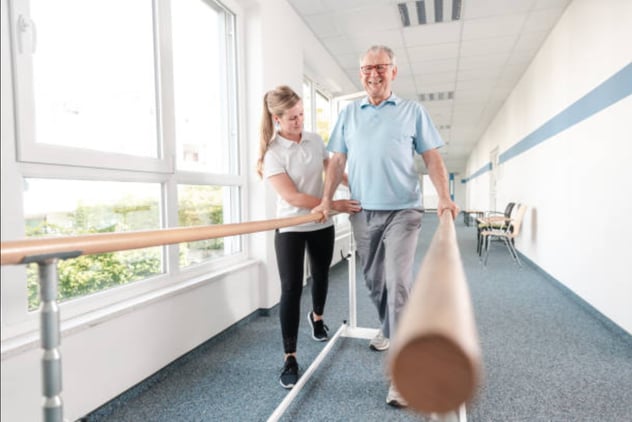 Deciding to have back surgery is a major undertaking. Inpatient post-surgical rehabilitation after spine surgery is a proven and effective alternative to undergoing recovery at home, but how do you know if it is the right choice for you?
Post-surgical rehabilitation is a short-term, inpatient program where you will receive high-quality, comprehensive care from a team of surgical rehab specialists. Since the back surgery recovery time is unique for everyone, the fact that inpatient care can be highly personalized helps to ensure that all your physical, pain management, and wound care needs are met. Twenty-four-hour access to medical professionals can prevent complications, such as infection, that can delay healing and recovery time and support steadfast recovery progress. However, the pace of rehabilitation depends largely on the type of procedure you undergo. Let's examine some common back surgeries to explore how rehabilitation can impact recovery.


Recovery from Back Surgery

: The Role of Rehabilitation
One of the main goals of rehabilitation after back surgery is to improve functioning and reduce pain. Of course, back surgery recovery times depend on the type of procedure, with some requiring much longer than others. The timing for when to begin physical therapy and mobilization exercises is a crucial aspect of post-surgical care and must be planned intentionally. For instance, one study about lumbar back surgery patients concluded that "exercise programs starting four to six weeks post-surgery seem to lead to a faster decrease in pain and disability than no treatment. High-intensity exercise programs seem to lead to a faster decrease in pain and disability than low-intensity programs. There were no significant differences between supervised and home exercises for pain relief, disability, or global perceived effect."
Lumbar Disc Surgery Recovery
Lumbar disc radiculopathy, which is characterized by low back pain, leg pain, and numbness/tingling of the leg or foot, can be treated surgically with a microdiscectomy or spinal fusion.
Lumbar microdiscectomy is a minimally invasive procedure in which part of the damaged disc is removed to ease the pressure on the nerve and eliminate the low back and leg pain. This procedure is usually done as outpatient surgery, and the consensus for when to begin mobilization and rehabilitation exercises is the day of the surgery. The intensity of the exercises varies and depends on what the person can tolerate; however, the intensity is gradually increased over time for every patient to enhance mobility and reduce recovery time.
Lumbar disc fusion is a more complex surgery and can be performed as a minimally invasive or open spine procedure. People who have spinal instability from conditions, such as scoliosis or spondylolisthesis, often have disc fusion surgery.
The North American Spine Society (NASS) has made recommendations for which components of postsurgical rehabilitation to implement with spinal fusion surgery. The organization includes cardiovascular exercises, motor control, strengthening exercises, and patient education.
Patient education, nerve glide exercises, and a walking program can begin before the surgery and be reinforced during the hospital stay. Formal physical therapy rehabilitation is recommended to start at 12 weeks although some patients that had minimally invasive procedures may be able to begin earlier. It is important to wait 12 weeks before beginning exercises to give the muscles and incision time to heal.
Cervical Spine Surgery Recovery
Minimally invasive and open disc fusion and disc replacement procedures are also used for cervical spine conditions. The gold standard treatment for degenerative disc disease has been an anterior cervical discectomy with fusion, but as with other fusion surgeries, limitations in range of motion can be a problem. Cervical disc arthroplasty replaces the entire damaged disc with a prosthetic disc, and it preserves the range of motion in the neck.
Early mobilization and rehabilitation are recommended for patients undergoing both minimally invasive and open cervical spine surgery. The goal is for patients to begin walking two hours after being transferred to the post-anesthesia care unit (PACU).
A New Approach: Enhanced Recovery After Surgery (ERAS)
Enhanced Recovery After Surgery (ERAS) is a multidisciplinary, multimodal program designed to reduce the time it takes to recover after surgery. ERAS was initially developed for colorectal surgical procedures but has been successfully expanded to other specialties including spinal surgery.
The protocol for ERAS consists of preoperative, perioperative, and postoperative interventions that help minimize the stress response to the surgical procedure.
Preoperative interventions are meant to optimize the individual's health before the day of the surgery. These include education and counseling, cessation of smoking and alcohol consumption, and assessments for anemia and nutrition.
Postoperative pain management with multiple types of medications, such as acetaminophen, ibuprofen, naproxen, and steroids, is critical to recovery time and preventing future problems with chronic pain.
Early mobilization and physical therapy are recommended as soon after surgery as the person is able. This prevents muscle atrophy, the risk of blood clots, and reduced lung function.
Reducing

Back Surgery Recovery Times
In recent years, minimally invasive spine surgery has become more common. It causes less tissue damage than traditional open procedures and may allow patients to begin rehabilitation earlier and reduce their back surgery recovery time.
Degenerative disc disease is frequently associated with aging and can cause significant pain in the lumbar spine. In the past, cervical spine surgery involved fusing the affected discs with a metal plate, but this resulted in the loss of some range of motion. People who previously could not undergo traditional open back surgery have been able to regain their quality of life by having a minimally invasive procedure.
Surgeons are now beginning to focus more on minimally invasive techniques that replace the damaged disc with a prosthetic one. Patients are usually able to get up and walk on the same day as their surgery, shortening hospital stays and recovery times. No matter the procedure you elect to have, it's clear that earlier and safe mobilization is a key component of a successful recovery.
Post-Surgical Care for Back Surgery Patients in Alabama
Rehab Select provides comprehensive medical care, physical therapy, occupational therapy, education, counseling, 24-hour medical monitoring, and emotional support to help you optimize back surgery patients' access to optimal post-surgical care. Our goal is to help you work toward regaining your highest level of functioning, health and well-being, and independence so that you can get back to the activities that you enjoy most. Schedule a meeting or tour at one of our five locations and discover Rehab Select, the premier rehabilitation facility for spinal surgery in Alabama.