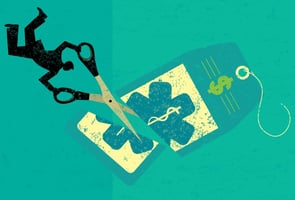 The bundled payment model has become an increasingly popular alternative to the traditional fee-for-service payment. At the forefront of the ongoing shift towards value-based healthcare, the goal of this payment model is to reduce healthcare costs while maintaining or improving quality-of-care. Post-discharge care is one area in which, according to recent research, the bundled payment model has shown promising results in meeting those goals.
The research in question was published September 27, 2016 in the Journal of the American Medical Association (JAMA). The objective of the study was to determine whether or not the Bundled Payments for Care Improvement (BPCI) initiative was achieving its goals of lowering costs without reducing quality of care in lower extremity joint replacement episodes of care.
To answer this question, researchers looked at Medicare payments, utilization, and quality associated with these procedures during hospitalization and the 90-day post-discharge period—the defined episode of care for lower extremity joint replacement under the BPCI initiative. Data from BPCI participating hospitals was compared with data from matched comparison hospitals that did not participate in the initiative.
After gathering information on these factors in regards to 61,000 joint replacement surgeries performed between October 2011 and June 2015, researchers found that costs of these episodes of care in BPCI participating hospitals dropped from an average of $30,201 to $27,265 with implementation of bundled payments.
Researchers determined that the bulk of those savings were the result of reduced post-acute care costs. Medicare costs related to post-acute care in skilled nursing homes dropped by $546 per lower extremity joint replacement episode of care, and payments to inpatient rehabilitation facilities were lowered by $445 per episode.
Importantly, researchers noted that cutting post-acute care costs via the bundled care model did not compromise quality of care in the episodes of care examined during this study. In fact, there were indications of improved care quality over the study period, including greater improvements in mobility, physical and emotional problems and pain in joint replacement patients. Additionally, there was no decline in patient satisfaction or other functional measures.
This research shows that the bundled payment model is indeed meeting its goals in lower extremity joint replacement episodes of care, working to reduce healthcare costs while maintaining or improving quality of care. Additionally, in these episodes of care, that success has been primarily centered upon the ability of providers to streamline the post-acute care process, adding efficiency to that process that enables improved patient outcomes at lower cost.