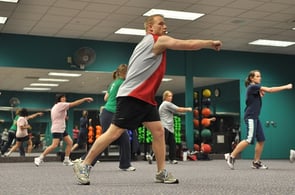 If you are in the planning phase of an upcoming joint replacement surgery, you should know that how your recovery and rehabilitation period is handled is extremely important to a successful outcome. For that reason, learning about and carefully planning for that period is as essential to the process as surgical planning is. After all, you'll certainly be anxious to get back on your feet and back to life as quickly as possible. Short term rehab is an important option to consider in terms of helping you do that.
Here are 3 ways short term rehab can help speed up recovery after joint replacement procedures:
1. More Intensive Rehabilitation Therapy
Using an inpatient short term rehab program can jump-start your recovery by offering much more intensive therapy and care than you'll receive with an outpatient or home-based rehab plan. Rather than an hour or two of physical and/or occupational therapy two or three times a week, inpatient rehab patients typically have a minimum of three hours of therapy every day. Additionally, inpatient programs offer more comprehensive care, since each patient is assessed and treated by a team of rehabilitative specialists. They also have a wider array of therapy programs, rehabilitation equipment, and facilities on hand than is typically available with outpatient rehab options.
2. 24-Hour Care and Support
Joint replacement surgery, whether it involves the hip or the knee, is a very serious and invasive procedure. Small, everyday tasks, such as getting dressed, preparing meals, taking care of your surgical wound, and keeping track of post-surgery medications and appointments, among many others, will be very challenging for those first days and weeks of recovery. A stay in short term rehab can relieve you of the stress involved with managing everything yourself during this challenging time, with physicians, nursing staff, therapists, counselors, case managers, and social workers available at all times to give you the care and support you need for a comfortable and successful recovery.
3. Easy Access to Rehab Equipment and Facilities
Rehabilitation takes a lot of hard work, and not all of it can be done in physical and occupational therapy sessions. Making your quickest and most complete recovery typically means doing quite a bit of homework – such as doing prescribed exercise on your own between therapy sessions. A stay in short term rehab after your joint replacement surgery ensures that you will have ready access to equipment and facilities that will make that follow-through easier – and safer – to manage.
All-in-all, an inpatient short term rehab program offers everything you need – all under one roof and easily accessible – to ensure your comfort and safety during your recovery period. This will leave you free to focus on learning to function with your new joint and regaining your strength, health, and mobility. That freedom to concentrate on recovery, without the intrusion of day-to-day worries and hassles, helps ensure that you can make quick, steady progress towards your ultimate goal – putting that surgery behind you and getting back to your life.