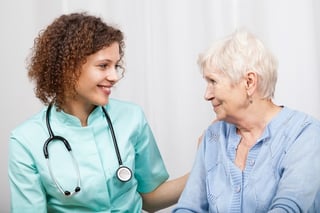 Are you in need of skilled nursing care for yourself or a loved one? If so, you have probably already realized that there are lots of skilled nursing facilities in business today. While most offer a similar range services, they are not all alike. Some are better than others, going above and beyond basic established standards to deliver exceptional all around care to their patients, while others struggle to maintain those basic standards.So what do you need to know to ensure that the facility you choose is one of those better ones?
Here are 3 things to look for in a skilled nursing facility:
Above average staffing
All skilled nursing facilities must abide by regulations on staffing requirements that specify the minimum number and type – in terms of credentials – of employees that must be on duty at any given time. However, facilities that are invested in providing high-quality care typically offer more in terms of staffing than that bare minimum. Look for a facility that goes the extra mile for their clients with things like 24-hour RN (registered nurse) coverage, on-staff physicians and specialists, and highly-skilled staff capable of managing specialized medical and therapeutic needs. That type of commitment to providing high-quality staff is a good indication of an equal commitment to high-quality care.
A strong emphasis on and investment in therapy/rehabilitation services
This is an important factor to look for whether skilled nursing care is needed on a short term basis to assist in rehabilitation and recovery after a medical event, or over the long term to manage chronic diseases or disabilities. For those who expect to spend a few weeks or so in a facility to help get them back on their feet, intensive rehabilitation treatment is essential to meeting that goal as quickly as possible, and a top-quality facility will ensure that level of care is provided. For those who will be longer term residents, a strong commitment to therapy is essential to maximizing function, independence and quality of life. Look for a facility that serves these needs via a physician-led team of rehabilitative specialists that is on staff and available to provide care to residents at least 5 days per week.
Patients and families encouraged to participate in planning, treatment and care
The best outcomes are achieved when patients and/or families are engaged in the treatment/care process. Quality skilled nursing facilities are well aware of that fact and work to involve patients and their families as individualized treatment/care plans are developed and carried out, welcoming them as an important part of their own or their loved one's healthcare team.
Another thing to look for in sizing up skilled nursing facilities is pleasant environment, which is also a sign of a quality facility. A good facility will be clean and comfortable throughout. Residents and families should feel welcomed and valued by staff, visiting policies should be very liberal, and communication with staff members should be open, friendly and respectful. In short, the atmosphere should be one that is centered on clients and their visitors, indicating a solid commitment to meeting the needs of those who have entrusted the facility with their care.