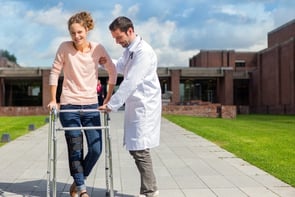 Given today's faster discharge times from acute care hospitals, short term inpatient rehab is often recommended for patients who have had surgery, particularly those who have had joint replacement surgeries, other orthopedic procedures, or cardiac surgery. That's because inpatient rehabilitation therapy can help these patients get back in shape more quickly after surgery than an outpatient routine can.
Here, we'll outline 3 reasons short-term inpatient rehab therapy improves recovery times.
1) 24-hour care, assistance, and supervision
Today's shorter hospital stays leave patients responsible for more of their own care than they used to be, such as wound care, managing pain and medications, and watching for signs of post-surgical complications. They also are responsible for keeping track of and getting themselves to follow-up appointments with doctors and surgeons, as well as attending rehab therapy sessions and following through with prescribed exercises on their own between sessions.
While some patients and/or family caretakers manage well, many others find it difficult to juggle all the details of recovery. That difficulty can impair recovery progress. For these patients, a good short term rehab program, which provides them with medical and rehabilitation specialists for assistance and guidance in managing their recovery, can mean a faster, more complete recovery.
2) Comprehensive, tightly coordinated care
A good short term inpatient rehab program offers a much higher level of care than can be expected with outpatient or home-based rehabilitation therapy, with each patient assessed and treated by a physician-led team of rehabilitation specialists. That team may include rehabilitation doctors and nursing staff; wound care and pain management specialists; physical, occupational, and speech therapists; and nutritionists, counselors, and case managers, among others. All work together to create a comprehensive recovery and rehabilitation plan for each patient in their care.
Care coordination – which is key to quality of care – is enhanced by this team approach since it facilitates easy, open communication between all care providers involved in the treatment of each patient. Comprehensive, well-coordinated care leads to faster progress towards rehabilitation goals, promoting good patient outcomes.
3) Intensive, personalized therapy and treatment
Another important advantage of good inpatient short term rehab programs is that they are able to provide more intensive, highly personalized therapy than the average outpatient or home-based therapy arrangement offers. Patients who use an inpatient program to rehabilitate after surgery typically receive a minimum of three hours of therapy daily, whereas those using outpatient services may see their therapist for an hour or so two or three times a week. Inpatient rehab facilities typically offer more advanced rehabilitation equipment and facilities than can the average outpatient clinic, and patients have greater access to those resources. Since rehabilitation plans are a collaborative effort between patients and a physician-led team of rehab specialists, they are highly personalized and easily adjusted to meet changing patient needs. These factors work to maximize the effectiveness of rehab therapy, speeding progress towards rehab and recovery goals.
Everyone wants to go home as quickly as possible after a medical procedure. It's tempting to opt for the outpatient path as the quickest route. Consider the long-term benefit of faster, more successful recovery and explore your options before making a decision to pass up the inpatient rehab course of therapy.