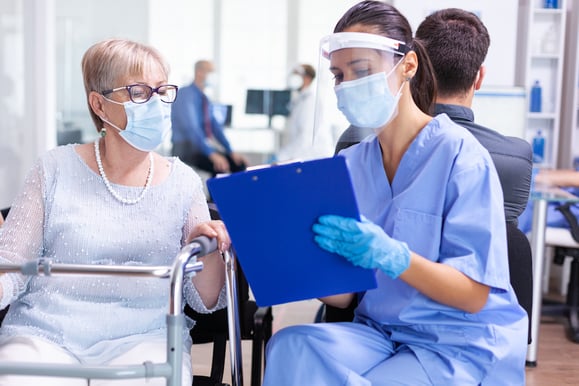 The coronavirus is still relatively new, with the first case in North America reported in the United States in January of 2020. Yet, almost 29 million cases have been reported in March of 2021. Of those nearly 30 million cases, most recover as expected. But there proves to be a notable instance of COVID-19 long haulers whose recovery takes longer than expected.
While each coronavirus experience is different, there are some things to keep in mind as you are acutely ill, move into recovery mode and hopefully make a full recovery. It's essential to understand the support available to you and what you can do to make a complete coronavirus recovery.
Coronavirus Recovery Looks Different for Everyone
Most people will recover from the acute illness and feel better within weeks of their Coronavirus infection, but others might experience long-term symptoms. Data shows 80% of patients infected develop mild-to-moderate symptoms, and the other 20% develop more severe symptoms.
The most commonly reported long-term symptoms as reported by the CDC include:
Fatigue
Shortness of breath
Cough
Joint Pain
Chest Pain
Less commonly reported symptoms include:
Difficulty with thinking and concentration
Depression
Muscle Pain
Headache
Intermittent fever
Fast-beating or pounding heart
Unfortunately, serious post-COVID-19 symptoms have been reported. Thankfully, they are far less common. While this is true, it is wise to know the possible complications and symptoms COVID-19 can cause. These include:
Inflammation in the heart muscle
Lung function abnormalities
Acute Kidney injury
Rash, hair loss
Smell and taste problems, sleep issues, difficulty with concentration, memory problems
Depression, anxiety, mood changes
If you're struggling to recover after four weeks post-diagnosis with lingering symptoms, you may be a COVID-19 long hauler—there are important things you should know to achieve long-term recovery.
3 Things to Know About Your Recovery
Recovery can be a long and winding road. Those struggling to recover after four weeks with lingering symptoms, including general weakness, muscle fatigue and weakness, brain fog, anxiety and depression, etc., should keep these things in mind and work toward building a solid plan for recovery with the help of available supports.
1. An individualized plan for recovery is crucial.
Since coronavirus outcomes vary from person to person, working with professionals to create a personalized treatment plan is your best bet.
With an individualized plan, you can work with more than one discipline to target your specific symptoms and concerns. For example, you may work with a physical therapist, cardiologist, and mental health therapist to address your diverse symptoms.
Research has found that most people recover with holistic support, rest, symptomatic treatment, and a gradual introduction to "normal" life and activity.
An individualized plan may also include your schedule and routines in everyday life. Those struggling to overcome COVID-19 will benefit from relaxing, taking a step back from responsibilities, working on mindset, and reaching out to appropriate specialties. COVID-19 impacts various parts of the body, as addressed in reported symptoms. This means multiple specialties and experts should come together to work on your case.
Your doctor or therapist may recommend at-home practices to aid in recovery as well. Here are things you can do at home to aid in your healing:
Keeping hydrated
Get rest
Taking OTC medications
Eat Healthy Foods
Manage your fever
Close monitoring is essential during recovery.
Coronavirus recovery and post-COVID-19 symptoms are unpredictable, which can be scary. Having professionals involved in your care, keeping an eye on your progress and setbacks is one way to monitor your symptoms and progress.
By monitoring your progress closely, you and your doctor can recognize symptoms early and adjust treatment as necessary. As mentioned in the case for an individualized treatment plan, monitoring may be done by more than one doctor at a time.
Remember, you play a vital role in the monitoring of your health. It may be helpful to have systems in place to keep track of symptoms and fever. Writing down your symptoms as they happen and keeping a log of your progress (or otherwise) is helpful to keep your treatment team in the loop and aware of any new or recurring symptoms. If you are recovering at home and notice symptoms getting worse, contact your doctor as soon as possible.
3. Deconditioning is common during coronavirus recovery.
Research shows we may be underestimating the impact of Coronavirus and its ability to cause chronic illness, sarcopenia, and physical deconditioning. In fact, research indicates that in just over a week, patients can lose 12% of their muscle strength, more in the elderly.
Doctors of physical therapy (PT) and occupational therapy (OT) can evaluate you and create a unique plan to meet your needs.
With therapists' help, you can keep track of progress and address your individualized struggles and needs. Since COVID-19 can impact multiple areas of the body, there are various concerns you may have.
A physical therapist can help with a variety of these issues, including but not limited to:
Oxygen prescription
Mitigating the decline in motor function
Improving the ability to complete daily tasks
Determining the best exercises and practices to gain strength and stamina
Physical and occupational therapies are a tremendous help to those getting back to life after a COVID-19 infection. PT and OT work is uniquely designed to address a patients' symptoms. Since COVID-19 doesn't have a typical course or timeline, your PT and OT sessions can meet you where you are and work on your goals.
Fighting the Novel Coronavirus
While research is ongoing and experts are still studying long-term impact, we know that a collaborative therapy team can help you address your symptoms the best way possible. At Rehab Select, our medical experts also understand that COVID-19 can also lead to troubling symptoms like deconditioning.
We work with a comprehensive care team to create and stick to your individualized treatment plan will meet you where you are and address your concerns.
If you are wondering how to improve your recovery and get back to normal, contact our professionals to take back control of your life. Rehab Select now offers Alabama-based COVID Recovery Programs.