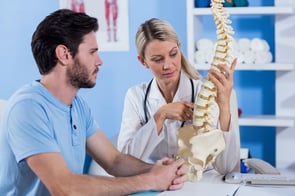 If you are in the planning phases of an orthopedic procedure or are beginning recovery from surgery or injury, chances are that your healthcare team has suggested an orthopedic rehabilitation program to help ensure that you make your best recovery as quickly as possible. Orthopedic rehabilitation may also be suggested for you if you are living with arthritis, osteoporosis or other similar chronic orthopedic conditions. Whatever the underlying reason, if orthopedic rehab is something that you are considering, you are sure to have some questions about these programs. To help you along as you explore your rehabilitative options, here are 3 critical answers about orthopedic rehabilitation that can make it easier to make solid, well-informed decisions about your care.
What orthopedic rehabilitation is
Orthopedic rehab is a specialized program that focuses on helping patients recover strength and function lost to an orthopedic surgery, injury or condition.
For instance, joint replacement patients are often referred to rehab after surgery, where they receive treatment that helps them heal and recover from surgery safely, adjust to their new prosthetic joint, regain strength and function in the affected area, and restore mobility and independence. Arthritis patients may be referred to rehab to help them regain strength, function and flexibility in joints affected by the disease, making day-to-day activities easier. Osteoporosis patients may be admitted to a rehab program to aid them in recovering from fractures, improving posture and/or balance or reducing chronic pain.
Patients who use a rehab program for these and other orthopedic conditions can expect to be treated, depending upon their individual needs and the rehab program chosen, by rehabilitative specialists that include rehabilitative physicians and nurses, physical therapists, occupational therapists, nutritional counselors, pain management specialists, social workers, counselors and other clinical professionals and support staff.
Why inpatient rehab may be your best option for maximum rehabilitative results
If you have been exploring your orthopedic rehabilitation options, you have likely discovered that they include inpatient programs, which involve checking into a rehabilitation facility, and outpatient ones, where patients visit clinics or therapists periodically for treatment.
While staying in your own home during your rehabilitation process may seem more appealing than a hospital stay, it often is not the most effective in terms of rehabilitative progress and overall results. That's because inpatient programs can offer more intensive treatment than can the average outpatient program, including more time with rehabilitative specialists, more comprehensive and well-coordinated treatment plans, 24-hour care and support, and all-day access to rehabilitation staff, equipment and facilities. As a result of these and other advantages, patients who use inpatient orthopedic rehabilitation programs tend to recover more quickly from surgery or injury, have less risk of complications and experience greater improvements in function and/or mobility than those who opt for outpatient therapy.
How to choose your rehab program
Choosing your program is best done with the assistance of your healthcare team. However, while their recommendations are very important, it is also important that you spend some time comparing the merits of those recommended programs. Look for a program that has a well-qualified and diverse team of rehabilitative specialists on staff, indicating a substantial concern for and investment in high-quality care. Choose a program that treats the individual, rather than their diagnosis. Programs that do will insist upon performing their own examination of patients, rather than just reading charts, and will consider patients to be an integral part of the planning and treatment process. Other things to look for include a clean, well-staffed and well-equipped facility, and for inpatient rehab, liberal visitation policies that allow ample support from friends and family.