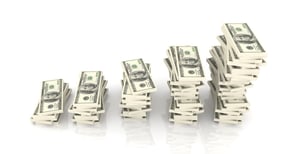 Today's healthcare market is a swiftly changing landscape, and much of that change is related to alternative healthcare payment models. The goal of those models is to stem the tide of rising healthcare costs while continuing to provide an excellent standard of care to patients—a concept that has become widely known as "value-based healthcare." So how is this move towards value-based healthcare models panning out? Here is what you need to know about 2016 trends in healthcare payment models.
The Bundled Payment Model
Topping the list of 2016 trends in healthcare payment models is the bundled payment model. This value-based model links payments for multiple services, often rendered by multiple providers, during a single episode of care. This creates incentives that encourage more accountability and coordination between healthcare providers with the goal of containing or reducing costs while maintaining or improving quality-of-care.
According to a report published by Peer60, the bundled payment model leads the pack in terms of alternative payment models that healthcare providers are most interested in adopting, with 34 percent of surveyed providers stating that they have participated in bundled payments or will do so in the near future. Much of this interest can be attributed to the fact that the bundled payment model offers more adaptability and flexibility to providers than do other alternatives to the traditional fee-for-service model. Another factor in the popularity of this model is the prominence that it has gained via the Centers for Medicare & Medicaid Services (CMS), which has rolled out several bundled care programs in recent years, including the Comprehensive Care for Joint Replacement Model (CCJR) and the Bundled Payments for Care Improvement (BPCI) initiative.
Value-Based Purchasing (VBP)
This alternative payment model, a CMS initiative, rewards providers with incentive payments for the quality of care delivered to Medicare beneficiaries. Those incentive payments may be based either on how well providers perform currently on measures that include clinical outcomes, care coordination, patient experience, safety, efficiency and cost reduction; or how much their performance on each measure improves over time. As with the bundled payment model, the goal of VBP is to link payment to the quality of care patients receive rather than basing payment strictly upon the quantity of care delivered. Peer60 research shows that 31 percent of providers have participated in or plan to adopt this payment model.
Accountable Care Organizations (ACOs)
A healthcare payment model embraced by both government and private payers, ACOs consist of healthcare providers who form cooperative networks in order to provide well-coordinated, cost-efficient care to patients. ACO programs generally include financial incentives for provider groups who meet agreed-upon quality-of-care and cost containment benchmarks. According to Peer60, 31 percent of healthcare providers already participate in ACOs or are interested in adopting this payment model.
While these are the top three in terms of trends in healthcare payment models, there are other emerging alternative payment models that will have some impact on the healthcare market. Other models to watch in 2016 and beyond include the Merit-Based Incentive Payment System (MIPS) model, which rewards providers based on quality, resource use, clinical practice improvement, and meaningful use of certified EHR technology; and Comprehensive Primary Care (CPC) models, in which providers are encouraged to support certain comprehensive care functions in return for a monthly care management fee.